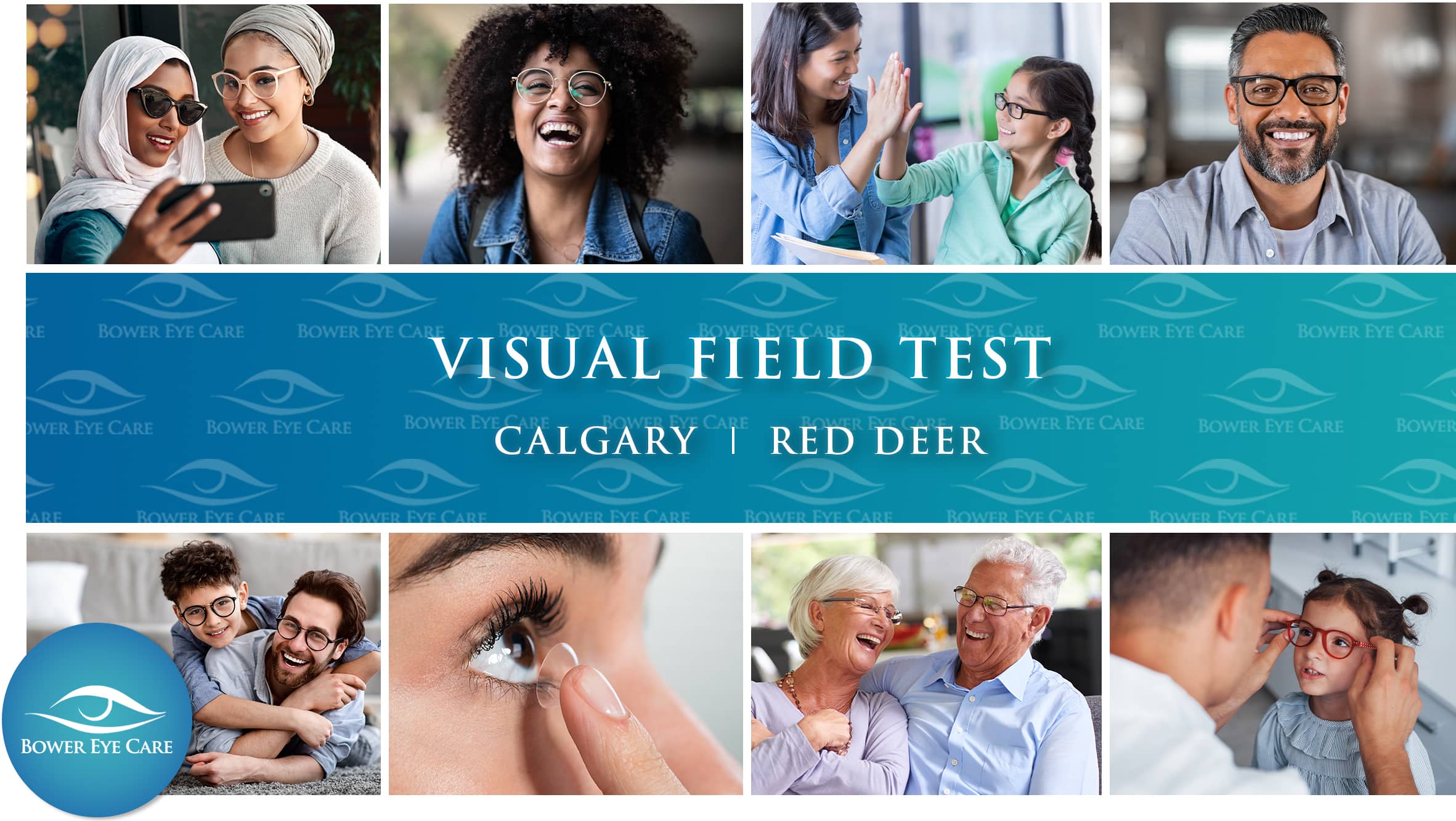 Peripheral vision is also known as indirect vision. It is our ability to detect objects and movement outside of our point of fixation, our central field of vision, without turning our head. It is what we see out of the "corner of our eye". Peripheral vision is key to perception as we navigate through the world, allowing us to sense traffic, incoming people or objects, and ensure our safety and mobility. When combined with our central vision we have a clear view of the "big picture", of what is occurring around us. A visual field test is the technology your optometrist leverages to assess the quality of your peripheral vision.
How Does A Visual Field Test Work?
During a visual field test your optometrist will ask you to cover one eye and focus your uncovered eye on a target. You will be instructed to click a button each time you see a white light out of the side, above, or below your eye. Calculating the results will give your eye doctor a clear evaluation on the scope and accuracy of your peripheral vision.
Did you know that visual field tests and predetermined test results are a requirement for the Calgary Police Service, The RCMP, military, pilots, certain sports, and visual driving reports? Bower Eye Care is experienced in assisting clients with specific requirements for reporting after a visual field test.
For all patients, a visual field test provides critical insight to your optometrist. It can indicate vision deterioration and loss, but it can also indicate certain eye injuries and the early signs of eye disease such as glaucoma. Visual field testing as part of a regular eye exam also acts as a baseline so that your optometrist can monitor for changes in vision year after year.
See Clearly in Calgary
Bower Eye Care provides an elevated level of eye health care to Calgarians with the most advanced diagnostic and treatment technologies.
We promise an elevated eye care experience for you and your family so that you can take control of your eye health ensure a lifetime of clear vision with the support of our optometrists and eye care professionals.
Call us at: 1-403-719-9990
Book Appointment
A Better Vision For Red Deer
Bower Eye Care has a clear vision of eye care for Red Deer.
Our expert team of optometrists and eye health professionals bring cutting edge diagnostics and treatment technologies to your city so you can see a future with optimal eye health and better vision for you and your family. Visit our Red Deer clinic and ensure healthy eyes for a lifetime.
Call us at: 1-403-309-2255
Book Appointment
Complete Eye Care For Your Family
From your child's first eye exam through to the treatment and management of age-related disease, Bower Eye Care is your family's ally in optimal eye health and clear vision for a lifetime. Our skilled and knowledgeable team offers complete eye care services with a patient-centered approach and a focus on education and empowerment.
This test is performed with extreme care. It can take up to 6 minutes per eye and may need to be performed again if results are not conclusive.
You can book by calling our team at 1-403-719-9990 in Calgary, 1-403-309-2255 in Red Deer, or through our online form. We also accept walk-in visits. Please let our team know at booking if you have specific reporting requirements.
Your Eye Health, Your Way

Bower Eye Care is committed to a patient-centred and collaborative approach to long-term eye health, diagnosis, treatment, disease management, and vision correction. The first step on the journey to a lifetime of ocular well-being and clear vision begins with a comprehensive eye exam. Take control of your eyes and book your children's, adults', or senior's eye exam today.
Your Guide To Clear Vision
With a focus on compassionate care and patient education, we promise to give every Bower Eye Care patient the time they need to understand their diagnosis, their treatment strategy, and their prescription for clear vision. Choose the best guide for your journey to optimal eye health with the team at Bower Eye Care.
Call us today at Calgary location: 1-403-719-9990 or Red Deer location: 1-403-309-2255
Reach out to us at our Calgary location by fax at 1-403-719-9992 or Red Deer location at 1-403-309-2241