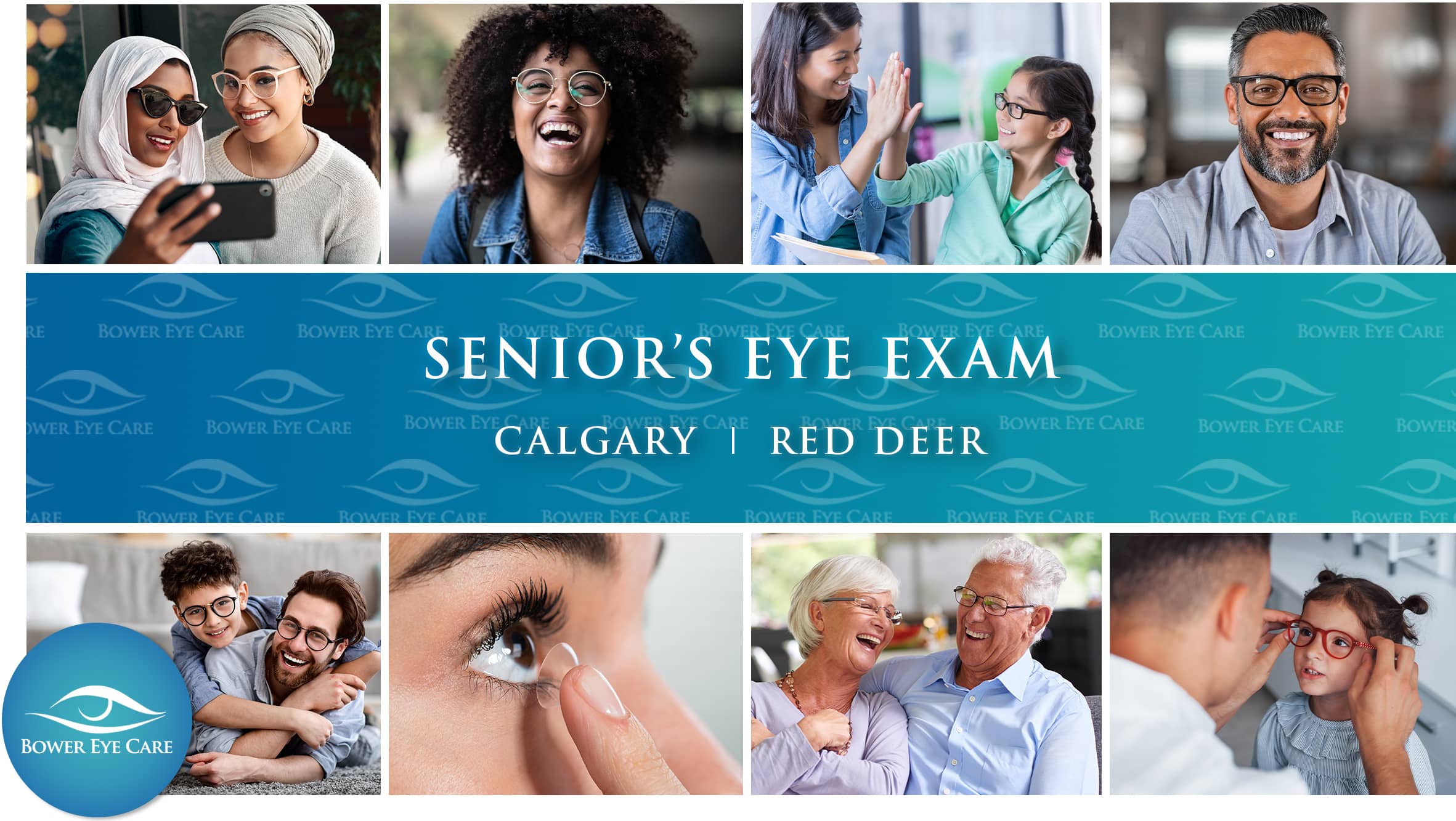 The process of aging makes us all more susceptible to changes in vision. Seniors are at an increased risk for developing a number of age-related eye diseases and other conditions. Regular senior eye exams and a collaborative approach to health care and disease management by your optometrist and primary health care provider is the best strategy to protect vision and maintain good eye health as you age. With a clear and effective, proactive strategy to detect, monitor, and treat eye diseases, you can ensure that your lifestyle is preserved, your independence is supported, and that you maintain ideal levels of overall health and well-being for many years to come.
Maintain Healthy Vision And Optimal Eye Health
Common vision problems such as presbyopia (difficulty focusing on near objects) and night blindness (difficulty seeing at night or in low light conditions) may start as early as age 40, long before senior's eye exams are recommended. But a number of age-related eye conditions and disease demonstrate increased risk for those over the age of 65. Some very common vision and eye health concerns for seniors include:
Age-related macular degeneration (AMD)
Glaucoma
Cataracts
Diabetic retinopathy
Comprehensive senior's eye exams are also useful for detecting other conditions for which seniors are at an increased risk such as heart disease and cancer. Senior's eye exams are a vital part of maintaining vision, eye health, and overall health and well-being.
Senior's Eye Exams in Alberta
For those Albertans over the age of 65, annual comprehensive screenings by your optometrist are covered under the Alberta Health Care Insurance Plan (AHCIP). Through the Optical Assistance for Seniors program, you may also qualify for coverage for prescription eyeglasses.
Early diagnosis and intervention can reduce your risk of permanent vision loss due to age-related eye disease. This vision loss will impact your independence and your quality of life. Do everything you can to protect and maintain your vision and eye health with good nutrition, a healthy lifestyle, and regular, annual comprehensive senior's eye exams at Bower Eye Care.
See Clearly in Calgary
Bower Eye Care provides an elevated level of eye health care to Calgarians with the most advanced diagnostic and treatment technologies.
We promise an elevated eye care experience for you and your family so that you can take control of your eye health ensure a lifetime of clear vision with the support of our optometrists and eye care professionals.
Call us at: 1-403-719-9990
Book Appointment
A Better Vision For Red Deer
Bower Eye Care has a clear vision of eye care for Red Deer.
Our expert team of optometrists and eye health professionals bring cutting edge diagnostics and treatment technologies to your city so you can see a future with optimal eye health and better vision for you and your family. Visit our Red Deer clinic and ensure healthy eyes for a lifetime.
Call us at: 1-403-309-2255
Book Appointment
Complete Eye Care For Your Family
From your child's first eye exam through to the treatment and management of age-related disease, Bower Eye Care is your family's ally in optimal eye health and clear vision for a lifetime. Our skilled and knowledgeable team offers complete eye care services with a patient-centered approach and a focus on education and empowerment.
Annual senior's eye exams for those Albertans aged 65 and over are covered under the Alberta Health Care Insurance Plan (AHCIP).
During a senior's eye exam Bower Eye Care optometrists test for vision, coordination of eye muscles, peripheral vision, pupil response to light, and fluid pressure in the eye. We also screen for any changes or irregularities in vision due to aging.
You can book by calling our team at 1-403-719-9990 in Calgary, 1-403-309-2255 in Red Deer, or through our online form. We also accept walk-in visits. Don't forget that if you are over the age of 65 your annual exam is covered by Alberta Health Care Insurance Plan (AHCIP).
Your Eye Health, Your Way

Bower Eye Care is committed to a patient-centred and collaborative approach to long-term eye health, diagnosis, treatment, disease management, and vision correction. The first step on the journey to a lifetime of ocular well-being and clear vision begins with a comprehensive eye exam. Take control of your eyes and book your children's, adults', or senior's eye exam today.
Your Guide To Clear Vision
With a focus on compassionate care and patient education, we promise to give every Bower Eye Care patient the time they need to understand their diagnosis, their treatment strategy, and their prescription for clear vision. Choose the best guide for your journey to optimal eye health with the team at Bower Eye Care.
Call us today at Calgary location: 1-403-719-9990 or Red Deer location: 1-403-309-2255
Reach out to us at our Calgary location by fax at 1-403-719-9992 or Red Deer location at 1-403-309-2241