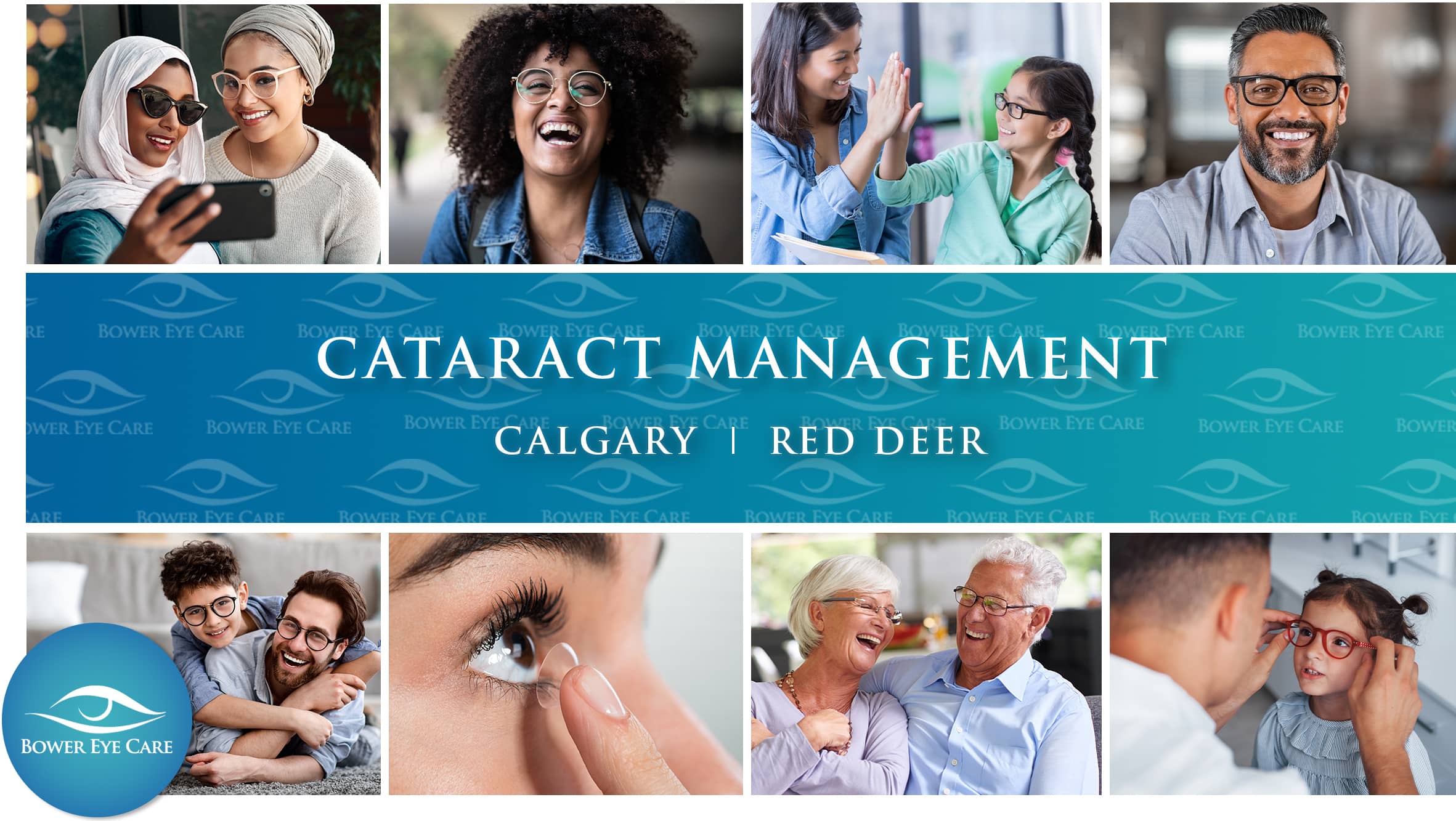 A cataract forms when protein builds up on the normally clear lens of the eye. This condition can make the eye appear cloudy and impair vision. Cataracts develop slowly over time, but if left untreated, cataracts can lead to complete blindness. Sometimes prescription adjustments can help improve vision, but cataract surgery is the most effective treatment for cataracts. The good news is that this ground-breaking surgery can completely restore clear vision. Cataract surgery is performed by an eye surgeon, or ophthalmologist, but your optometrist will play a key role in managing your cataracts before and after surgery.
Cataracts are a normal part of aging. Almost everyone who lives to the oldest of ages will develop cataracts at some point. Most people start to develop cataracts at around age 40 and more than 50% of people over age 80 have had them. There are some factors that can increase the rate and likelihood of cataract formation including:
Diabetes
Steroids
Certain medications such as chlorpromazine
Radiation treatments
Eye surgery or eye injury
UV damage from sun exposure
A Collaborative Approach To Cataract Care
Cataracts are reversible and most patients are recommended to have surgery when the progression of their cataracts is causing significant vision impairment. Initially your optometrist will diagnose a cataract through specific vision screening tests and eye health evaluations. The first phase of cataract care is monitoring and perhaps an adjustment to your prescription to facilitate better vision. At the point when cataract surgery is indicated, your optometrist will work in collaboration with an ophthalmologist to support you through treatment and with skilled post-operative care and continued monitoring. Together your ophthalmologist and your optometrist will ensure the most positive outcomes after cataract surgery.
See Clearly in Calgary
Bower Eye Care provides an elevated level of eye health care to Calgarians with the most advanced diagnostic and treatment technologies.
We promise an elevated eye care experience for you and your family so that you can take control of your eye health ensure a lifetime of clear vision with the support of our optometrists and eye care professionals.
Call us at: 1-403-719-9990
Book Appointment
A Better Vision For Red Deer
Bower Eye Care has a clear vision of eye care for Red Deer.
Our expert team of optometrists and eye health professionals bring cutting edge diagnostics and treatment technologies to your city so you can see a future with optimal eye health and better vision for you and your family. Visit our Red Deer clinic and ensure healthy eyes for a lifetime.
Call us at: 1-403-309-2255
Book Appointment
Complete Eye Care For Your Family
From your child's first eye exam through to the treatment and management of age-related disease, Bower Eye Care is your family's ally in optimal eye health and clear vision for a lifetime. Our skilled and knowledgeable team offers complete eye care services with a patient-centered approach and a focus on education and empowerment.
Some of the symptoms of cataracts are:
Cloudy or filmy vision
Seeing halos around lights
Double vision
Poor night vision
Changes to the way colours appear
Sudden nearsightedness
If you are experiencing any of these symptoms, book a comprehensive eye exam and discuss your concerns with your optometrist.
Cataracts are diagnosed with a dilated eye exam. Your optometrist will use drops to dilate your pupils and use several diagnostics to assess your vision and the health of your lens.
You can book cataract screening and monitoring appointments at Bower Eye Care by calling 1-403-719-9990 in Calgary, 1-403-309-2255 in Red Deer, or through our online form. As we monitor the progression of your cataracts, we will refer you to a top ophthalmologist when required and work collaboratively to develop a post-operative strategy for care.
Your Eye Health, Your Way

Bower Eye Care is committed to a patient-centred and collaborative approach to long-term eye health, diagnosis, treatment, disease management, and vision correction. The first step on the journey to a lifetime of ocular well-being and clear vision begins with a comprehensive eye exam. Take control of your eyes and book your children's, adults', or senior's eye exam today.
Your Guide To Clear Vision
With a focus on compassionate care and patient education, we promise to give every Bower Eye Care patient the time they need to understand their diagnosis, their treatment strategy, and their prescription for clear vision. Choose the best guide for your journey to optimal eye health with the team at Bower Eye Care.
Call us today at Calgary location: 1-403-719-9990 or Red Deer location: 1-403-309-2255
Reach out to us at our Calgary location by fax at 1-403-719-9992 or Red Deer location at 1-403-309-2241