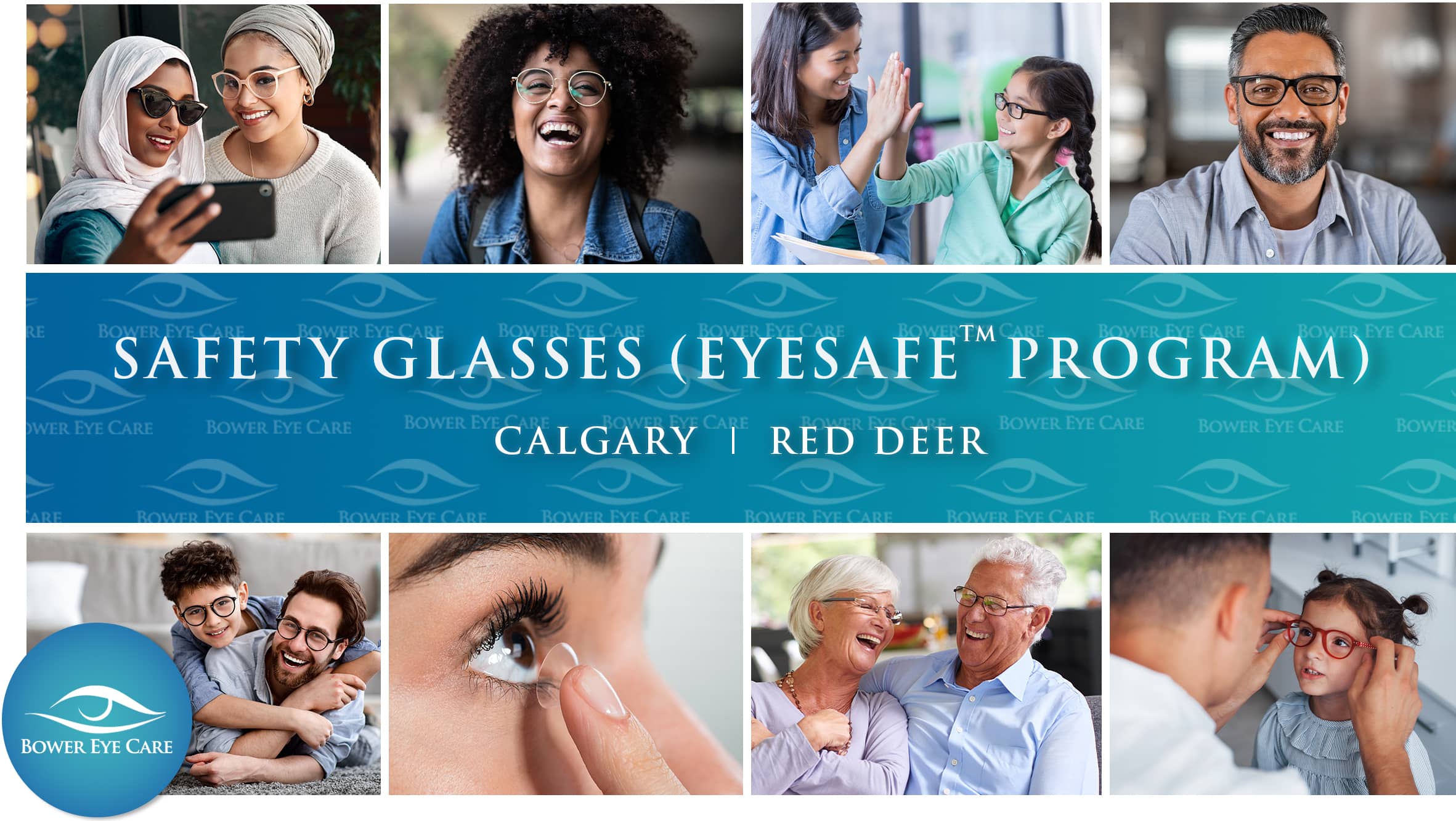 Your vision is precious and must be protected. According to the Canadian National Institute for the Blind (CNIB), over 700 Canadian workers sustain eye injuries in the workplace. Eyesafe™ is a program focused on ensuring Canadians have access to prescription safety eyewear to protect their vision. In Alberta, the Alberta Association of Optometrists (AAO) is partnering with clinics across the province to deliver high-quality protective eyewear.
Bower Eye Care is proud to work with the AAO and the Eyesafe™ program to protect the eye health of our patients and ensure a lifetime of clear vision.
How Does The Eyesafe™ Program Work?
Step 1: Your employer will provide you with an Eyesafe™ Job Order Form. This will outline your options and restrictions for frames, lenses, coatings, and coverage.
Step 2: Book your appointment with a Bower Eye Care Optometrist. You can book by calling 1-403-719-9990 in Calgary, 1-403-309-2255 in Red Deer, or through our online form. We also accept walk-in visits.
Step 3: Consult with your optometrist: Our team will make recommendations for frames, lenses, and coatings that will provide the best protection for your eye health and vision.
Step 4: Eyesafe™ protection is in your hands. Our team will have your fully customized protective safety eyewear ready in 3-4 weeks. We will conduct a quality check and a fitting to ensure that your Eyesafe™ eyewear is suited to keep your eyes and vision safe.
The Benefits Of The Eyesafe™ Program
Bower Eye Care is committed to the education of our patients on the importance of workplace eye safety. Protect eyewear could prevent up to 90% of workplace eye injuries. We provide easy eye exams in clinic or can fulfill your safety eyewear prescription from another doctor of optometry. When you participate in the Eyesafe™ program through Bower Eye Care you gain access to skilled and experienced eye care, advanced safety technologies in glasses and eyewear accessories, and an easy way to leverage the benefits of the Eyesafe™ program.
See Clearly in Calgary
Bower Eye Care provides an elevated level of eye health care to Calgarians with the most advanced diagnostic and treatment technologies.
We promise an elevated eye care experience for you and your family so that you can take control of your eye health ensure a lifetime of clear vision with the support of our optometrists and eye care professionals.
Call us at: 1-403-719-9990
Book Appointment
A Better Vision For Red Deer
Bower Eye Care has a clear vision of eye care for Red Deer.
Our expert team of optometrists and eye health professionals bring cutting edge diagnostics and treatment technologies to your city so you can see a future with optimal eye health and better vision for you and your family. Visit our Red Deer clinic and ensure healthy eyes for a lifetime.
Call us at: 1-403-309-2255
Book Appointment
Complete Eye Care For Your Family
From your child's first eye exam through to the treatment and management of age-related disease, Bower Eye Care is your family's ally in optimal eye health and clear vision for a lifetime. Our skilled and knowledgeable team offers complete eye care services with a patient-centered approach and a focus on education and empowerment.
Safety Glasses And The Eyesafe™ Program FAQs
Your Eyesafe™ safety glasses are typically manufactured by our lab partners in 3-4 weeks.
You can book your Eyesafe™ appointment at Bower Eye Care by calling 1-403-719-9990 in Calgary, 1-403-309-2255 in Red Deer, or through our online form. We also accept walk-in and urgent care visits.
Your Eye Health, Your Way

Bower Eye Care is committed to a patient-centred and collaborative approach to long-term eye health, diagnosis, treatment, disease management, and vision correction. The first step on the journey to a lifetime of ocular well-being and clear vision begins with a comprehensive eye exam. Take control of your eyes and book your children's, adults', or senior's eye exam today.
Your Guide To Clear Vision
With a focus on compassionate care and patient education, we promise to give every Bower Eye Care patient the time they need to understand their diagnosis, their treatment strategy, and their prescription for clear vision. Choose the best guide for your journey to optimal eye health with the team at Bower Eye Care.
Call us today at Calgary location: 1-403-719-9990 or Red Deer location: 1-403-309-2255
Reach out to us at our Calgary location by fax at 1-403-719-9992 or Red Deer location at 1-403-309-2241