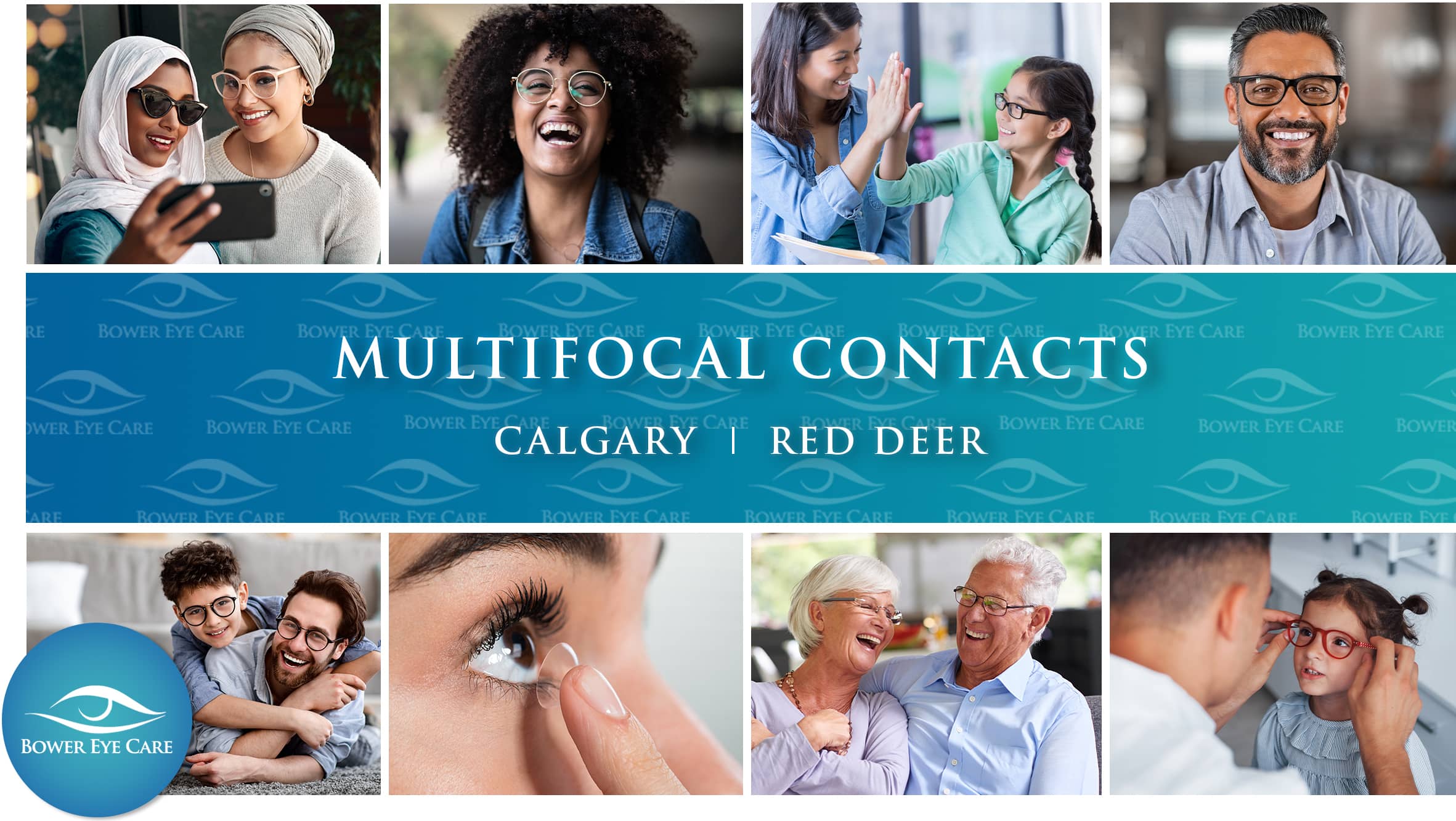 Multifocal contact lenses are needed when two different prescriptions are required for optimal vision correction: one for distance, the other for reading and close-up vision. It is common to require different strengths of correction for different tasks from the age of 45 and up. Just like multifocal eyeglasses, multifocal contact lenses incorporate areas of distinct prescription-strength within different parts of the lens. Some have segments which resemble bifocal glasses, others have rings of alternating power which is calculated after conducting your comprehensive eye exam.
Options For Optimal Vision
In the past, contact lenses were not an option for people who required bifocal prescriptions, but with today's technologies, contact lenses are available in multifocal prescriptions. Progress in this technology means that new lenses are being designed each year for people with a variety of vision problems that used to exclude them from contact lens use.
The skilled and highly-trained team at Bower Eye Care is committed to delivering the newest and most advanced developments in contact lens design to our patients so that their choices for vision correction are not limited by their diagnosis. Through comprehensive eye exams we are able to provide the clearest insight into your eye health and vision prescription so that you can make informed decisions to improve your sight. Our clinics have priority status with most contact lens companies. This enables us to carry and order a variety of lenses and provide our patients with the latest contact lens technology.
See Clearly in Calgary
Bower Eye Care provides an elevated level of eye health care to Calgarians with the most advanced diagnostic and treatment technologies.
We promise an elevated eye care experience for you and your family so that you can take control of your eye health ensure a lifetime of clear vision with the support of our optometrists and eye care professionals.
Call us at: 1-403-719-9990
Book Appointment
A Better Vision For Red Deer
Bower Eye Care has a clear vision of eye care for Red Deer.
Our expert team of optometrists and eye health professionals bring cutting edge diagnostics and treatment technologies to your city so you can see a future with optimal eye health and better vision for you and your family. Visit our Red Deer clinic and ensure healthy eyes for a lifetime.
Call us at: 1-403-309-2255
Book Appointment
Complete Eye Care For Your Family
From your child's first eye exam through to the treatment and management of age-related disease, Bower Eye Care is your family's ally in optimal eye health and clear vision for a lifetime. Our skilled and knowledgeable team offers complete eye care services with a patient-centered approach and a focus on education and empowerment.
Yes, we are able to direct bill the majority of insurance companies and benefit providers in Alberta including:
Blue Cross, Medavie
Telus Health Portal
Provider Connect
Sun Life
NIHB (Indigenous Services)
Alberta Works/ Aish
Our team is happy to answer any insurance/ coverage questions you have at the time of booking.
We try to provide a set of trial contact lenses to every patient, but in some cases we will need to order you customized lenses.
Start by booking a comprehensive eye exam to assess your eye health and determine your prescription at Bower Eye Care by calling 1-403-719-9990 in Calgary, 1-403-309-2255 in Red Deer, or through our online form. If you choose contact lenses for vision correction, we will also schedule a fitting and a teaching session for you.
Your Eye Health, Your Way

Bower Eye Care is committed to a patient-centred and collaborative approach to long-term eye health, diagnosis, treatment, disease management, and vision correction. The first step on the journey to a lifetime of ocular well-being and clear vision begins with a comprehensive eye exam. Take control of your eyes and book your children's, adults', or senior's eye exam today.
Your Guide To Clear Vision
With a focus on compassionate care and patient education, we promise to give every Bower Eye Care patient the time they need to understand their diagnosis, their treatment strategy, and their prescription for clear vision. Choose the best guide for your journey to optimal eye health with the team at Bower Eye Care.
Call us today at Calgary location: 1-403-719-9990 or Red Deer location: 1-403-309-2255
Reach out to us at our Calgary location by fax at 1-403-719-9992 or Red Deer location at 1-403-309-2241