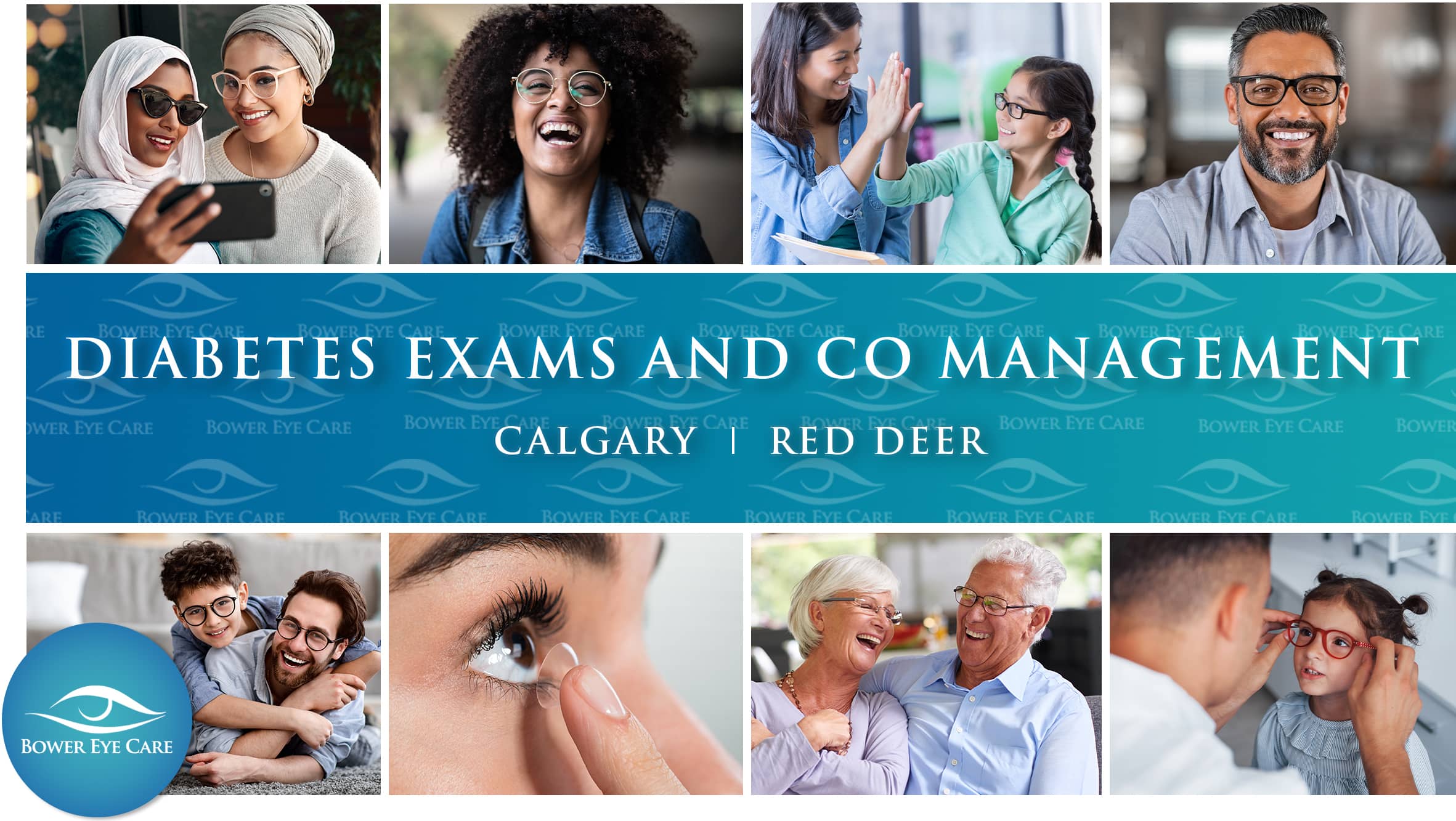 Diabetes can impact your health in many ways including your vision and eye health. Most eye diseases related to diabetes develop slowly and asymptomatically over time making detection difficult. Collaborative co-management of diabetes with your primary care physician and your optometrist is crucial to diagnosing diabetes-related eye conditions in the earliest stages for the most effective treatment. With access to the most advanced technologies, your Bower Eye Care optometrist can detect, treat, and manage these diseases. Early detection equals the highest chance for positive outcomes. The team at Bower Eye Care is committed to optimal eye health for our patients with diabetes through co-management in partnership with physicians and specialized care providers like ophthalmologists.
How Diabetes Can Impact Your Eye Health
Diabetes is one of the leading causes of blindness in adults aged 20-74. Careful management of diabetes and regular monitoring of your eye health is vital to maintaining healthy vision and avoiding certain eye diseases. High blood sugar levels in patients with diabetes cause an increased risk for:
Blurry Vision: High blood sugar can cause a swelling of your lens resulting in blurry vision.
Cataracts: This clouding of the lens occurs earlier, more frequently, and progresses more quickly in patients with diabetes.
Glaucoma: Glaucoma is an increased pressure in the eye that can damage nerves and blood vessels in the eye and impact vision.
Diabetic Retinopathy: Damage to the small blood vessels in your retina is related to high blood sugar levels.
Proliferative Retinopathy: Increased blood sugar can deprive your retina of needed oxygen and cause new blood vessels to grow. This can lead to retinal detachment and vision loss.
Maculopathy: Diabetes can cause swelling of the macula, the part of your eye responsible for vision necessary for reading, driving, and other activities.
Why Diabetic Eye Exams And Co-Management Is Key
A team-based and collaborative approach to diabetes management and overall health including eye care is key to preserving your vision and ensuring ocular health for years to come. Your Bower Eye Care optometrist will recommend more frequent eye exams to monitor, detect, and treat changes in your eye health or vision. Early detection and intervention will allow your co-management team to take the necessary steps early for more positive outcomes.
To note: Women who are pregnant or planning to become pregnant in the near future should schedule a comprehensive eye exam to monitor for conditions related to gestational diabetes.
See Clearly in Calgary
Bower Eye Care provides an elevated level of eye health care to Calgarians with the most advanced diagnostic and treatment technologies.
We promise an elevated eye care experience for you and your family so that you can take control of your eye health ensure a lifetime of clear vision with the support of our optometrists and eye care professionals.
Call us at: 1-403-719-9990
Book Appointment
A Better Vision For Red Deer
Bower Eye Care has a clear vision of eye care for Red Deer.
Our expert team of optometrists and eye health professionals bring cutting edge diagnostics and treatment technologies to your city so you can see a future with optimal eye health and better vision for you and your family. Visit our Red Deer clinic and ensure healthy eyes for a lifetime.
Call us at: 1-403-309-2255
Book Appointment
Complete Eye Care For Your Family
From your child's first eye exam through to the treatment and management of age-related disease, Bower Eye Care is your family's ally in optimal eye health and clear vision for a lifetime. Our skilled and knowledgeable team offers complete eye care services with a patient-centered approach and a focus on education and empowerment.
Diabetic Exams and Co-Management FAQs
In most cases, the additional exams for diabetic management (once or twice per year) are covered under your Alberta Health Care Insurance Plan (AHCIP).
We recommend that patients allow 45 minutes to 1 hour for assessment and consultation with the optometrist.
Your Eye Health, Your Way

Bower Eye Care is committed to a patient-centred and collaborative approach to long-term eye health, diagnosis, treatment, disease management, and vision correction. The first step on the journey to a lifetime of ocular well-being and clear vision begins with a comprehensive eye exam. Take control of your eyes and book your children's, adults', or senior's eye exam today.
Your Guide To Clear Vision
With a focus on compassionate care and patient education, we promise to give every Bower Eye Care patient the time they need to understand their diagnosis, their treatment strategy, and their prescription for clear vision. Choose the best guide for your journey to optimal eye health with the team at Bower Eye Care.
Call us today at Calgary location: 1-403-719-9990 or Red Deer location: 1-403-309-2255
Reach out to us at our Calgary location by fax at 1-403-719-9992 or Red Deer location at 1-403-309-2241