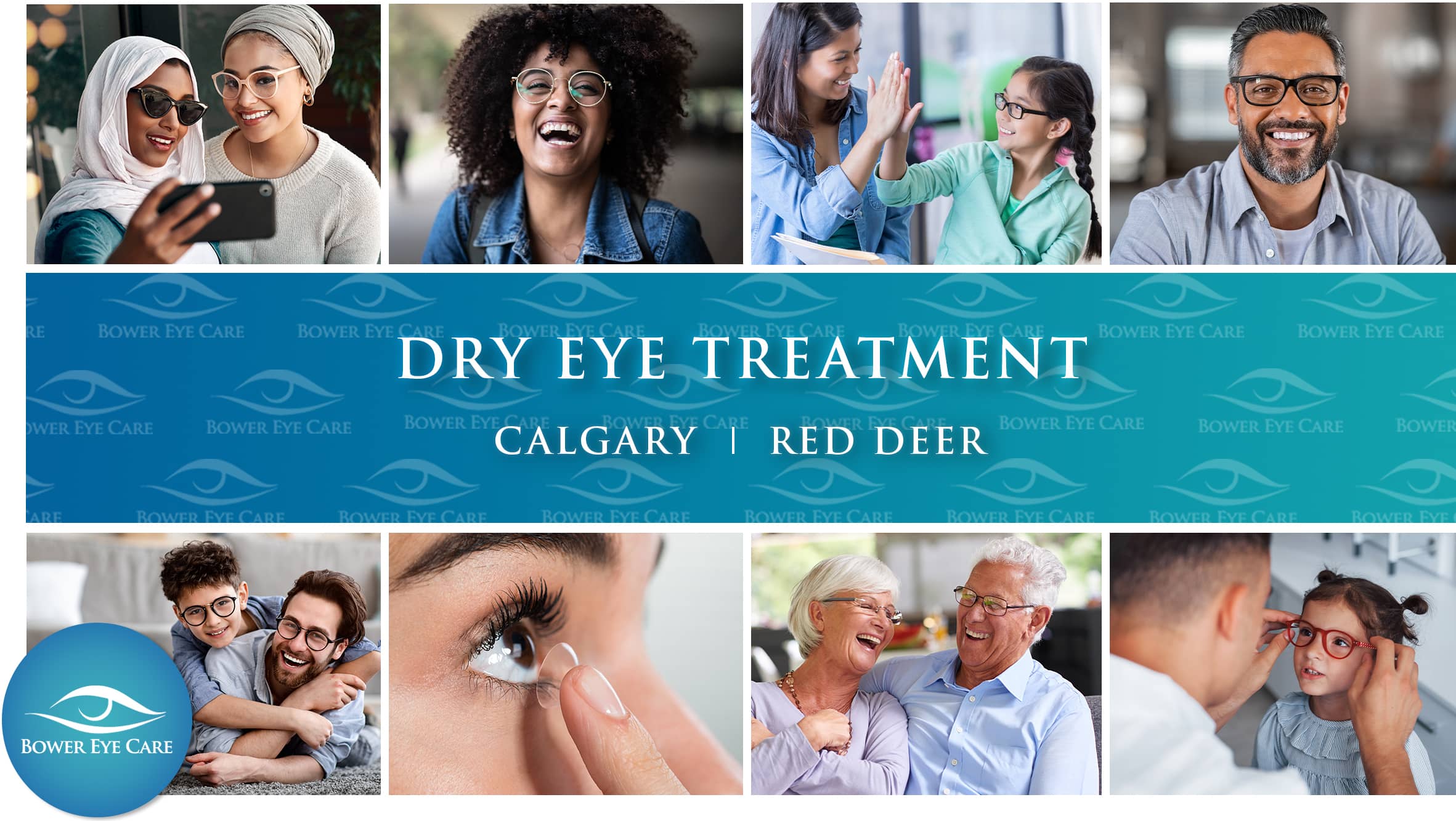 Dry Eye Syndrome (DES) is when the eyes are unable to produce a sufficient quantity of tears or when the chemical composition of tears is inadequate. This causes a lack of lubrication to the surface of the eye and results in persistent dryness, itchiness, burning, and redness. Some studies have estimated that as many as 90% of Albertans have experienced the symptoms of dry eyes. Dry eyes can cause discomfort and irritation; it may also cause difficulties while wearing contact lenses. Some common symptoms of untreated dry eye syndrome include:
Headaches
Difficulty driving
Conjunctivitis
Infections
Corneal ulcers
Damages to the surface of the eye
Development of vision loss
Understanding the causes of DES and managing the symptoms is key to healthy eyes and clear vision.
What Are The Symptoms Of Dry Eye Syndrome?
The most common symptoms of DES are:
Redness
A burning or stinging sensation
Itchiness and irritation
A feeling of grit or something in your eye
Difficulty wearing contact lenses
Sensitivity to light
Mucus or discharge from the eye
Swollen eyelids
Water eyes (your body's natural reaction to dry eyes)
What Causes Dry Eyes?
There are many factors that can contribute to dry eyes. Some of the most common are:
Allergies
Aging
Hormonal fluctuations
Certain medications like antihistamines
Certain diseases like rheumatoid arthritis
Vitamin deficiencies
Contact lens use
Eye surgery or eye injury
Environmental factors
Digital eye strain
What Treatments For Dry Eyes Are Available?
A comprehensive dry eye exam can give your optometrist insight into the underlying causes of your dry eyes and inform the best course of treatment. Some options for treatment are:
Eye drops (artificial tears) and ointments
Warm compresses
Punctal plugs
Meibomian gland expression
Nutritional supplements
Cleansing wipes
Anti-inflammatory treatments
Sometimes the best way to treat dry eyes is to determine the underlying cause and treat that condition.
See Clearly in Calgary
Bower Eye Care provides an elevated level of eye health care to Calgarians with the most advanced diagnostic and treatment technologies.
We promise an elevated eye care experience for you and your family so that you can take control of your eye health ensure a lifetime of clear vision with the support of our optometrists and eye care professionals.
Call us at: 1-403-719-9990
Book Appointment
A Better Vision For Red Deer
Bower Eye Care has a clear vision of eye care for Red Deer.
Our expert team of optometrists and eye health professionals bring cutting edge diagnostics and treatment technologies to your city so you can see a future with optimal eye health and better vision for you and your family. Visit our Red Deer clinic and ensure healthy eyes for a lifetime.
Call us at: 1-403-309-2255
Book Appointment
Complete Eye Care For Your Family
From your child's first eye exam through to the treatment and management of age-related disease, Bower Eye Care is your family's ally in optimal eye health and clear vision for a lifetime. Our skilled and knowledgeable team offers complete eye care services with a patient-centered approach and a focus on education and empowerment.
Some people are at an increased risk for dry eye syndrome including women, contact lens wearers, older Canadians, people with autoimmune or connective tissue disorders, people who spend a lot of time on computers, and people with skin conditions such as rosacea.
Sometimes dry eyes are a temporary condition brought on by something like campfire smoke or fatigue. In these cases it is okay to treat your dry eyes at home with warm compresses, humidifiers, and certain over-the-counter treatments. But if your dry eye symptoms are persistent and impacting your day-to-day activities, your optometrist can diagnose DES and provide treatment solutions to help you feel better and see clearly again.
Your Eye Health, Your Way

Bower Eye Care is committed to a patient-centred and collaborative approach to long-term eye health, diagnosis, treatment, disease management, and vision correction. The first step on the journey to a lifetime of ocular well-being and clear vision begins with a comprehensive eye exam. Take control of your eyes and book your children's, adults', or senior's eye exam today.
Your Guide To Clear Vision
With a focus on compassionate care and patient education, we promise to give every Bower Eye Care patient the time they need to understand their diagnosis, their treatment strategy, and their prescription for clear vision. Choose the best guide for your journey to optimal eye health with the team at Bower Eye Care.
Call us today at Calgary location: 1-403-719-9990 or Red Deer location: 1-403-309-2255
Reach out to us at our Calgary location by fax at 1-403-719-9992 or Red Deer location at 1-403-309-2241