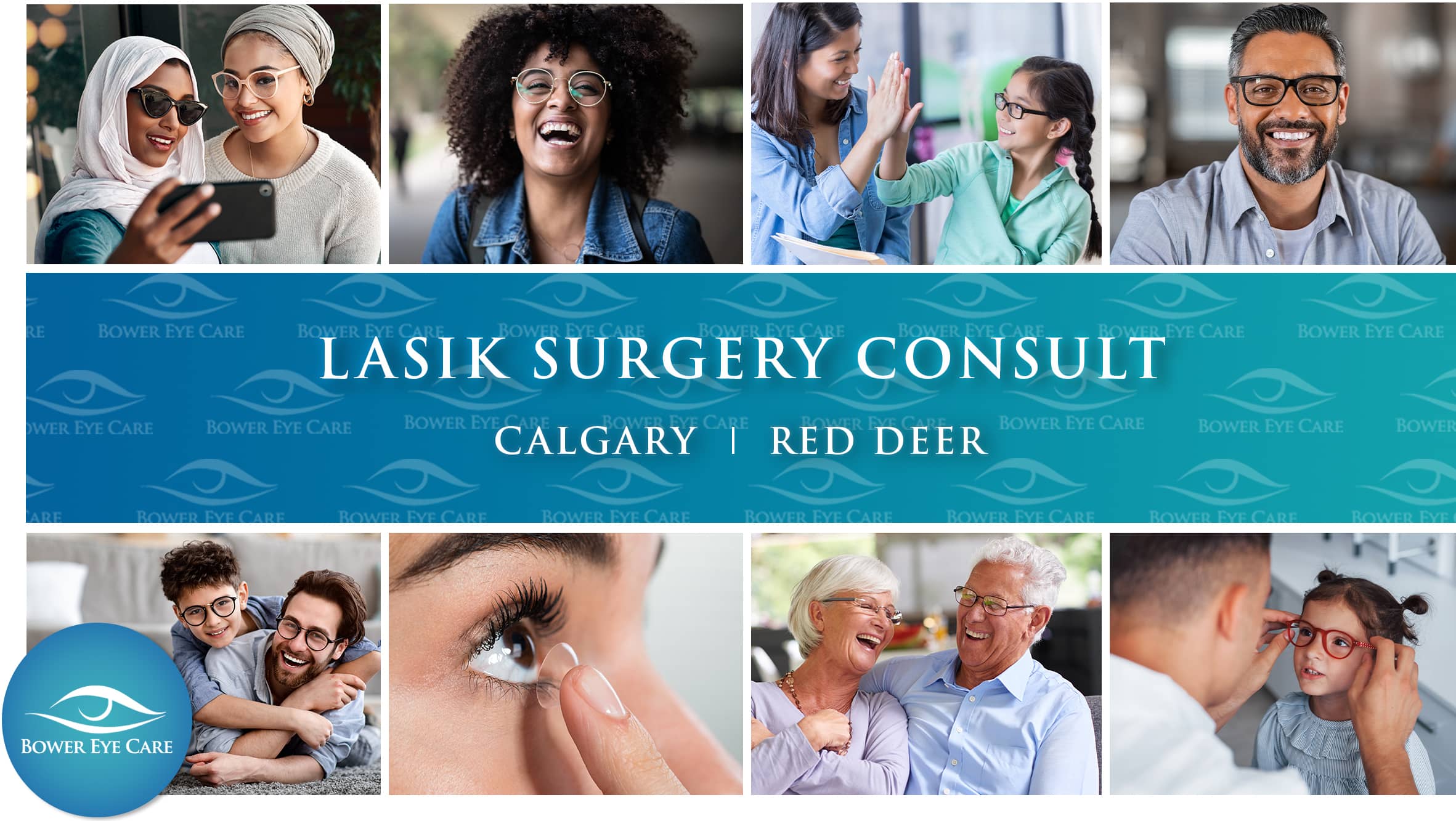 LASIK stands for laser in-situ keratomileusis, an effective and transformative laser eye surgery that can correct vision in many people. During this surgery, lasers are used to reshape the cornea and correct myopia (nearsightedness), hyperopia (farsightedness), and astigmatism. This surgery is performed as an outpatient procedure and is usually completed in 30 minutes or less. After surgery you may experience some mild discomfort and blurred vision, but you can expect to see more clearly right away and your vision will continue to improve over the following 2-3 months. More than 8 out of 10 people who choose LASIK no longer require eyeglasses or contact lenses.
The Role Of Your Optometrist
Your optometrist will not perform your LASIK surgery. This must be done by an ophthalmologist, but your optometrist will play an important role in your journey to clear vision.
The first step on your journey is a LASIK surgery consult with your optometrist, which includes a comprehensive eye exam to determine if you are a good candidate for laser eye surgery. Three of the most important tests your optometrist will perform are:
Corneal Topography: This test will map your cornea and evaluate for corneal thickness, shape, and angle.
Tonometry: This test uses a puff of air to measure eye pressure.
Vision Evaluation: This test will determine your prescription.
Your optometrist will also ask you questions about your general health and any medications and supplements you are using. If you meet the criteria for receiving LASIK surgery, your optometrist will guide you through the process, answer any questions, and refer you to a top ophthalmologist to perform your laser eye surgery.
After your LASIK procedure, your optometrist will manage most of your post-operative care. This includes follow-up appointments to monitor healing and vision improvement and a personalized recovery plan. By working in collaboration with your eye surgeon, your optometrist will become a valued partner in your healing and your journey to improved vision.
See Clearly in Calgary
Bower Eye Care provides an elevated level of eye health care to Calgarians with the most advanced diagnostic and treatment technologies.
We promise an elevated eye care experience for you and your family so that you can take control of your eye health ensure a lifetime of clear vision with the support of our optometrists and eye care professionals.
Call us at: 1-403-719-9990
Book Appointment
A Better Vision For Red Deer
Bower Eye Care has a clear vision of eye care for Red Deer.
Our expert team of optometrists and eye health professionals bring cutting edge diagnostics and treatment technologies to your city so you can see a future with optimal eye health and better vision for you and your family. Visit our Red Deer clinic and ensure healthy eyes for a lifetime.
Call us at: 1-403-309-2255
Book Appointment
Complete Eye Care For Your Family
From your child's first eye exam through to the treatment and management of age-related disease, Bower Eye Care is your family's ally in optimal eye health and clear vision for a lifetime. Our skilled and knowledgeable team offers complete eye care services with a patient-centered approach and a focus on education and empowerment.
LASIK Surgery Consult FAQs
Your optometrist can help you determine if you are a good candidate for LASIK surgery. In general, those with a stable prescription who are over 18 years of age and in good overall health can be considered for laser eye surgery.
There are some factors that may make you an unsuitable candidate for laser eye surgery. Those who may not qualify for LASIK include:
People who are pregnant or nursing
People taking certain medications
People with unstable vision
People with Dry Eye Syndrome (DES)
People with autoimmune disorders
People with compromised health
The best way to determine if you are a suitable candidate for laser eye surgery is to book a LASIK surgery consult with your optometrist.
You can book a LASIK surgery consult at Bower Eye Care by calling 1-403-719-9990 in Calgary, 1-403-309-2255 in Red Deer, or through our online form. If you are a candidate for LASIK surgery, we will refer you to a top ophthalmologist and remain a key support before and after laser eye surgery.
Your Eye Health, Your Way

Bower Eye Care is committed to a patient-centred and collaborative approach to long-term eye health, diagnosis, treatment, disease management, and vision correction. The first step on the journey to a lifetime of ocular well-being and clear vision begins with a comprehensive eye exam. Take control of your eyes and book your children's, adults', or senior's eye exam today.
Your Guide To Clear Vision
With a focus on compassionate care and patient education, we promise to give every Bower Eye Care patient the time they need to understand their diagnosis, their treatment strategy, and their prescription for clear vision. Choose the best guide for your journey to optimal eye health with the team at Bower Eye Care.
Call us today at Calgary location: 1-403-719-9990 or Red Deer location: 1-403-309-2255
Reach out to us at our Calgary location by fax at 1-403-719-9992 or Red Deer location at 1-403-309-2241