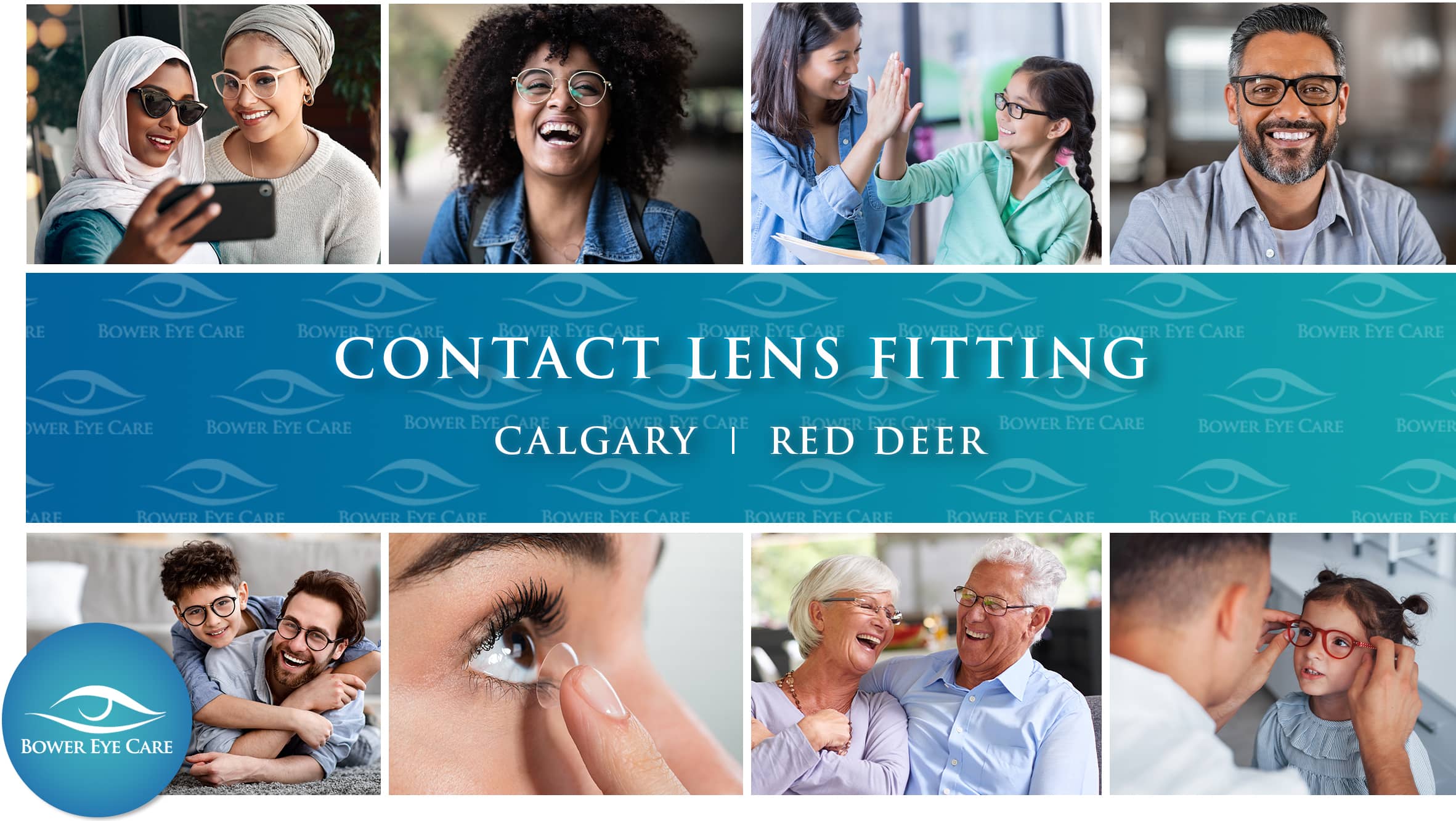 Beyond just filling your prescription for contact lenses, Bower Eye Care is dedicated to providing an elevated level of service and an exceptional contact lens experience for new and existing wearers. The team of optometrists at Bower Eye Care use superior equipment to precisely measure your cornea and determine the best contact lens options for you. Leveraging the most advanced technologies in contact lenses, we provide high quality products for first-time and experienced users, and for patients who are hard-to-fit or who have been previously told that they are not a candidate for contact lens use. Bower Eye Care is committed to providing the most suitable and effective contact lens services for every patient.
Why Is Contact Lens Fit Important?
The proper fit is vital for vision, comfort, and long-term eye health. Contact lenses that do not fit correctly can lead to further vision impairment, eye infections, corneal abrasions and ulcers, and more. And if your prescription contact lenses do not fit, you are unlikely to want to wear them regularly. A contact lens fitting appointment with our professional staff will ensure your vision and eye health are protected and that you can enjoy seeing the world clearly every day.
What Is A Contact Lens Fitting?
A fitting appointment can be incorporated into your comprehensive eye exam or it can be scheduled at a time convenient for you. A current, correct prescription is step one. Based on your prescription, eye measurements, and with consideration to any underlying diagnoses such as astigmatism, your Bower Eye Care optometrist will determine the most ideal lenses for you. Our team will dedicate one hour to ensuring you are informed and comfortable with how to wear, remove, and care for your contact lenses. You will be provided with a trial pair of lenses to use for one week and we will schedule a follow up to finalize the prescription and contact lens fit. If you are not confident after one hour or one training session, we welcome you to book another complimentary appointment with our team. Bower Eye Care prioritizes your vision and your comfort.
Affordable Contact Lens Solutions For Every Patient
Bower Eye Care is committed to providing a positive outcome for every patient seeking clear vision and healthy eyes with the support of contact lenses. We carry the industry's most advanced products and vision solutions including multifocal and multifocal toric lenses, toric lenses for astigmatism, myopic control lenses, and even coloured contact lenses at competitive prices. We carry many top brands in-store for immediate availability and offer home delivery for those not available. From your initial eye exam through to improved vision, Bower Eye Care is your partner for contact lenses.
See Clearly in Calgary
Bower Eye Care provides an elevated level of eye health care to Calgarians with the most advanced diagnostic and treatment technologies.
We promise an elevated eye care experience for you and your family so that you can take control of your eye health ensure a lifetime of clear vision with the support of our optometrists and eye care professionals.
Call us at: 1-403-719-9990
Book Appointment
A Better Vision For Red Deer
Bower Eye Care has a clear vision of eye care for Red Deer.
Our expert team of optometrists and eye health professionals bring cutting edge diagnostics and treatment technologies to your city so you can see a future with optimal eye health and better vision for you and your family. Visit our Red Deer clinic and ensure healthy eyes for a lifetime.
Call us at: 1-403-309-2255
Book Appointment
Complete Eye Care For Your Family
From your child's first eye exam through to the treatment and management of age-related disease, Bower Eye Care is your family's ally in optimal eye health and clear vision for a lifetime. Our skilled and knowledgeable team offers complete eye care services with a patient-centered approach and a focus on education and empowerment.
Contact Lens Fitting FAQs
Prices can vary depending on whether the fitting is a teaching and educational session for new users or a contact lens fitting for experienced users. Both fittings include trial contact lenses to ensure the right fit. It is important to have a contact lenses fitting whenever your prescription changes, or if you are trying a new brand, type, or style of contact lenses.
Bower Eye care is committed to providing the most competitive pricing for contact lenses, and patients can also take advantage of exclusive clinic and manufacturer rebates that cannot be found at big-box and online retailers. Bower Eye Care also has special sales and promotions throughout the year. If you are concerned about affordability, speak with our team and we can work together to find a cost-effective solution for you. As an added convenience, we offer direct billing to most major insurance companies and benefit providers.
Your safety and eye health is of the utmost importance to the team at Bower Eye Care. Contact lenses are a medical device applied directly on your eye. Every year we check the overall health of your eyes to prevent vision loss due to infections or corneal abrasions. Booking your yearly appointment is easy. You can book by calling our team at 1-403-719-9990 in Calgary, 1-403-309-2255 in Red Deer, or through our online form. We also accept walk-in and urgent care visits.
Your Eye Health, Your Way

Bower Eye Care is committed to a patient-centred and collaborative approach to long-term eye health, diagnosis, treatment, disease management, and vision correction. The first step on the journey to a lifetime of ocular well-being and clear vision begins with a comprehensive eye exam. Take control of your eyes and book your children's, adults', or senior's eye exam today.
Your Guide To Clear Vision
With a focus on compassionate care and patient education, we promise to give every Bower Eye Care patient the time they need to understand their diagnosis, their treatment strategy, and their prescription for clear vision. Choose the best guide for your journey to optimal eye health with the team at Bower Eye Care.
Call us today at Calgary location: 1-403-719-9990 or Red Deer location: 1-403-309-2255
Reach out to us at our Calgary location by fax at 1-403-719-9992 or Red Deer location at 1-403-309-2241