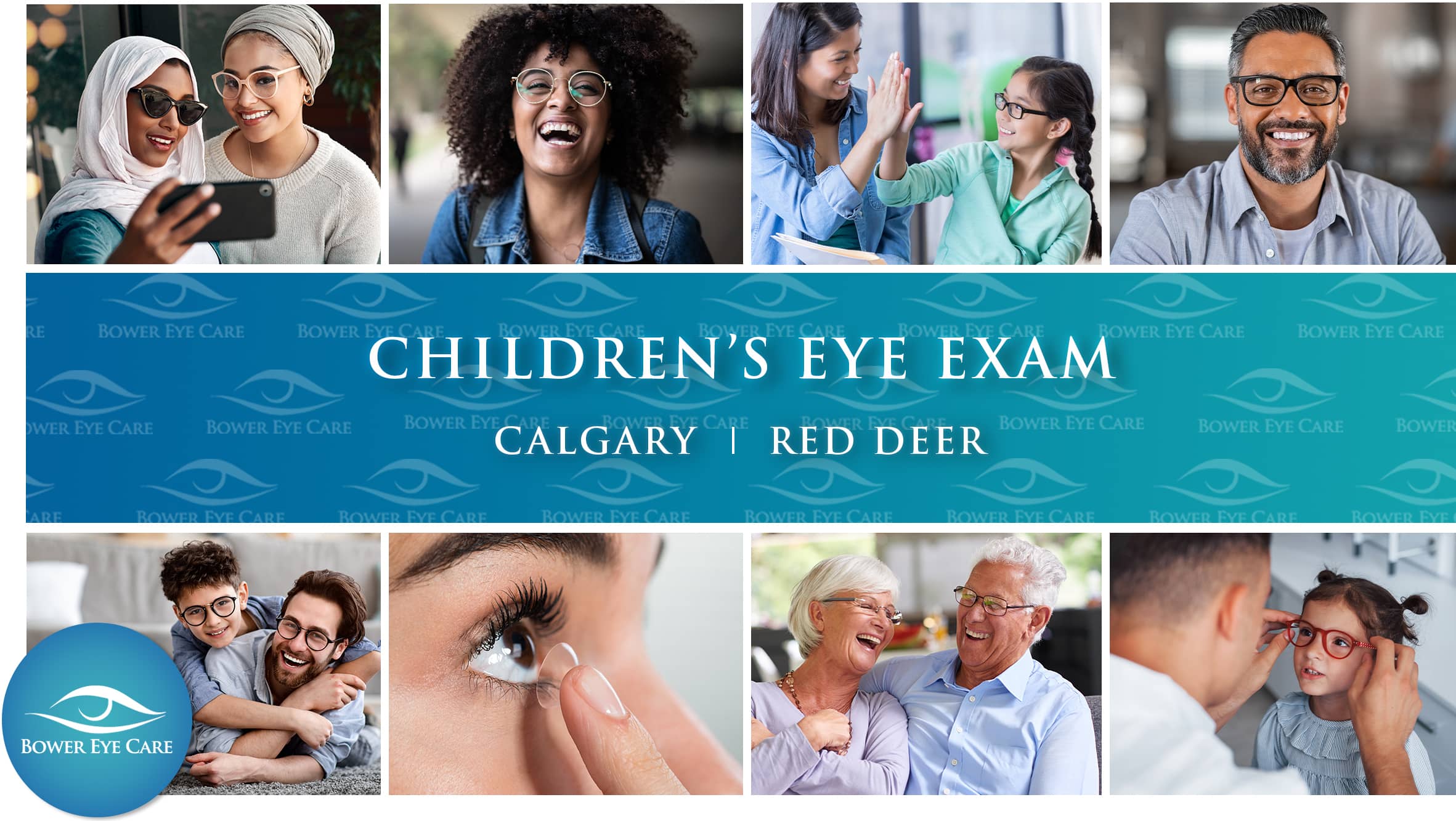 Caring for your child's vision begins early. Did you know that your child's first eye exam should take place sometime between 6 and 9 months of age? And that your child should have their eyes examined by an optometrist every year until they are 18? In Alberta, children's eye exams are covered under the Alberta Health Care Insurance Plan (AHCIP). Early vision along with an eye health assessment promotes and models healthy vision habits. Bower Eye Care is committed to providing care and compassion to every member of your family starting with a comprehensive children's eye exam and continuing with support for clear sight through every stage of your child's development.
What Is Included In A Children's Eye Exam?
The process of an exam will evolve as your child ages. The first and earliest eye exam will assess your baby's pupil response and their ability to fixate on and follow an object. A comprehensive children's eye examination with a certified optometrist for an older child will include the following:
Assessment of risk factors based on physiology, other underlying health conditions, and family history
Discussion about your child's vision needs for school and extracurricular activities and any concerns you may have
Vision assessment and prescription if needed
Eye coordination and alignment
Depth perception
Colour vision
Eye pressure
Overall eye health
Any additional testing as indicated by exam results
Timelines For Children's Eye Exams
In addition to assessing for common childhood eye diseases and vision impairments, the earliest exam provides a baseline that will inform your child's continued eye care. After your child's first eye exam at 6-9 months, they should continue regular annual children's eye exams until age 18. After age 18, they are recommended to seek out comprehensive eye exams every two years. If your optometrist has concerns for your child's eye health or vision, they may recommend more frequent assessments or they may refer your child for more specialized care with an ophthalmologist.
Bower Eye Care is committed to making sure that every visit to the eye doctor is easy, comfortable, and educational. We believe that early and regular vision and eye health screening is key to a lifetime of clear vision and optimal overall health and well-being.
See Clearly in Calgary
Bower Eye Care provides an elevated level of eye health care to Calgarians with the most advanced diagnostic and treatment technologies.
We promise an elevated eye care experience for you and your family so that you can take control of your eye health ensure a lifetime of clear vision with the support of our optometrists and eye care professionals.
Call us at: 1-403-719-9990
Book Appointment
A Better Vision For Red Deer
Bower Eye Care has a clear vision of eye care for Red Deer.
Our expert team of optometrists and eye health professionals bring cutting edge diagnostics and treatment technologies to your city so you can see a future with optimal eye health and better vision for you and your family. Visit our Red Deer clinic and ensure healthy eyes for a lifetime.
Call us at: 1-403-309-2255
Book Appointment
Complete Eye Care For Your Family
From your child's first eye exam through to the treatment and management of age-related disease, Bower Eye Care is your family's ally in optimal eye health and clear vision for a lifetime. Our skilled and knowledgeable team offers complete eye care services with a patient-centered approach and a focus on education and empowerment.
Children's Eye Exams FAQs
All children's eye exams up to age 18 are covered by your Alberta Health Care Insurance Plan. Any additional testing not covered by AHC can be submitted to your insurance plan.
The team at Bower Eye Care recommends your child has their first eye exam at 6 months and then annually after that. If you have noticed something of concern in your child less than 6 months of age such as an eye turn, pink eye, or a swollen eye we encourage you to come in anytime.
You can book by calling our team at 1-403-719-9990 in Calgary, 1-403-309-2255 in Red Deer, or through our online form. We also accept walk-in visits. Don't forget that your kindergarten-aged child may qualify for a free pair of prescription eyeglasses through the Eye See… Eye Learn™ initiative. Find out more here.
Your Eye Health, Your Way

Bower Eye Care is committed to a patient-centred and collaborative approach to long-term eye health, diagnosis, treatment, disease management, and vision correction. The first step on the journey to a lifetime of ocular well-being and clear vision begins with a comprehensive eye exam. Take control of your eyes and book your children's, adults', or senior's eye exam today.
Your Guide To Clear Vision
With a focus on compassionate care and patient education, we promise to give every Bower Eye Care patient the time they need to understand their diagnosis, their treatment strategy, and their prescription for clear vision. Choose the best guide for your journey to optimal eye health with the team at Bower Eye Care.
Call us today at Calgary location: 1-403-719-9990 or Red Deer location: 1-403-309-2255
Reach out to us at our Calgary location by fax at 1-403-719-9992 or Red Deer location at 1-403-309-2241