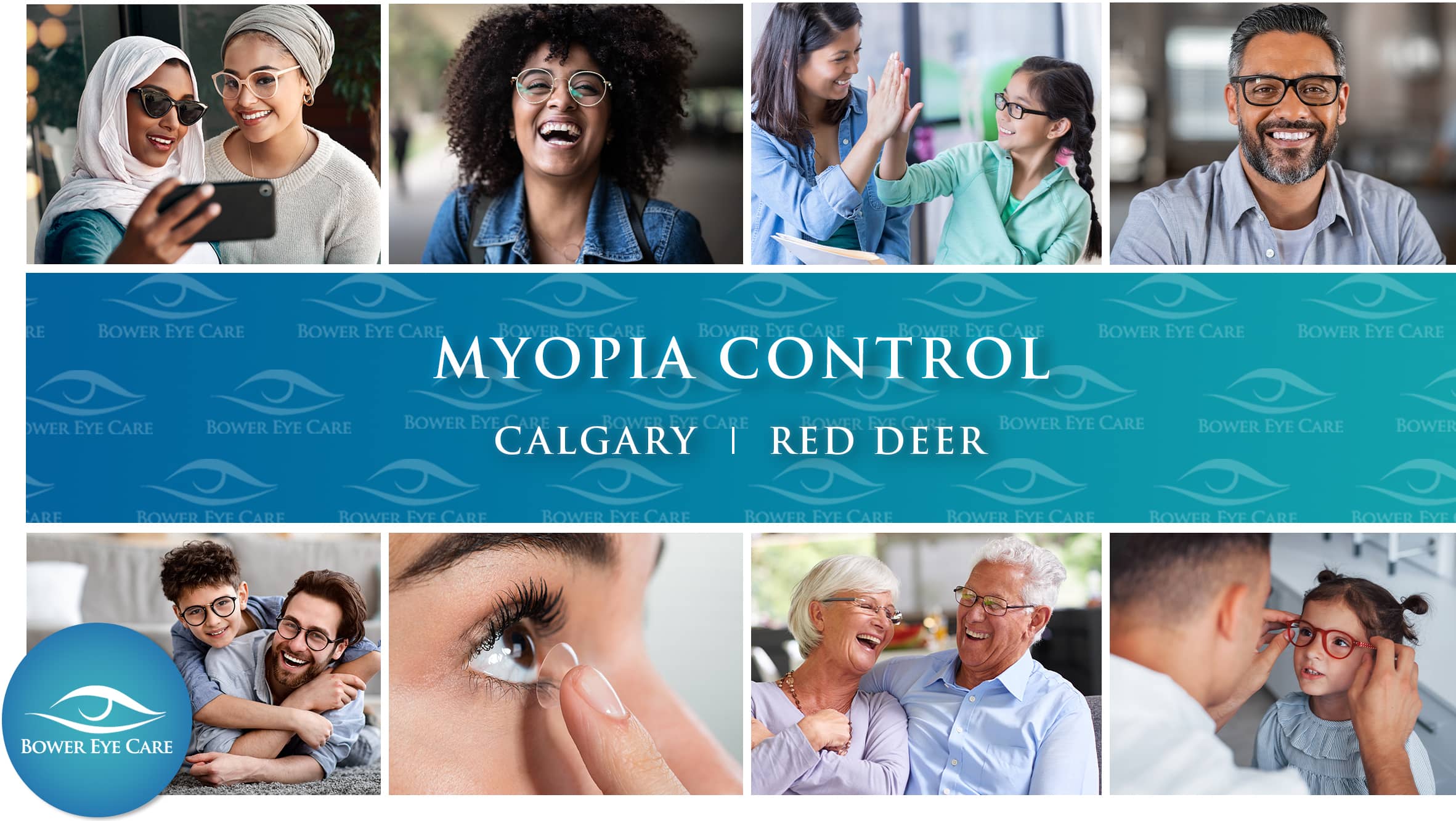 Myopia, also known as nearsightedness, is a common vision condition that allows you to focus clearly on objects close to you, but makes objects that are further away appear blurry or out of focus. It is a refractive error and occurs when your eyes do not focus light correctly and the shape of your eye causes images to be focused in front of, instead of, on your retina. In children, this condition can develop if the eyeball grows too quickly and elongates, front to back. Myopia can impact your child's ability to perform in school, participate in certain activities, and increases their risk for developing cataracts and glaucoma later in life. Bower Eye Care is pleased to offer MiSight contact lenses, a cutting-edge solution to children diagnosed with myopia."
To slow down the progression of myopia, MiSight contact lenses will focus light on the retina and use a series of peripheral rings to create myopic defocusing. MiSight corrects nearsightedness and slows the progression of myopia in children aged 8-12 at the initiation of treatment, by 59% on average. This game-changing product uses special ActivControl® Technology to transform the way children see. MiSight is available in convenient daily disposable contact lenses.
Is MiSight Right For My Child?
The skilled and specially-trained team of eye health professionals at Bower Eye Care can determine if your child is a good candidate for MiSight contact lenses with a routine comprehensive eye exam. In our practice, children as young as 8 years old were able to handle their lenses confidently soon after initial fitting.
The Advantages Of MiSight
Standard contact lenses are designed for correction of myopia. They are not effective to control the progression of myopia. The advantages of MiSight over regular contact lenses are:
MiSight lenses are disposable and require no cleaning
If they are lost or damaged, a new pair is ready to use
They are more comfortable and easier to apply and remove than rigid lenses
See Clearly in Calgary
Bower Eye Care provides an elevated level of eye health care to Calgarians with the most advanced diagnostic and treatment technologies.
We promise an elevated eye care experience for you and your family so that you can take control of your eye health ensure a lifetime of clear vision with the support of our optometrists and eye care professionals.
Call us at: 1-403-719-9990
Book Appointment
A Better Vision For Red Deer
Bower Eye Care has a clear vision of eye care for Red Deer.
Our expert team of optometrists and eye health professionals bring cutting edge diagnostics and treatment technologies to your city so you can see a future with optimal eye health and better vision for you and your family. Visit our Red Deer clinic and ensure healthy eyes for a lifetime.
Call us at: 1-403-309-2255
Book Appointment
Complete Eye Care For Your Family
From your child's first eye exam through to the treatment and management of age-related disease, Bower Eye Care is your family's ally in optimal eye health and clear vision for a lifetime. Our skilled and knowledgeable team offers complete eye care services with a patient-centered approach and a focus on education and empowerment.
If your child is displaying any of these behaviours you should have them assessed by your optometrist for myopia.
Blurry vision when looking at distant objects
Holding books, tablets, or homework close to their face
Sitting too close to the TV
Squinting or closing one eye to read
Frequent headaches
Excess watering of their eyes
Rubbing eyes
The only way to detect myopia and determine if myopia control lenses are suitable for your child is with a comprehensive eye exam. We recommend that your child visits your optometrist every year to monitor for changes in vision and eye health.
Children as young as 8 years old were able to handle their lenses confidently soon after initial fitting. MiSight are soft contact lenses that are easy-to-use and age-appropriate for children.
Your Eye Health, Your Way

Bower Eye Care is committed to a patient-centred and collaborative approach to long-term eye health, diagnosis, treatment, disease management, and vision correction. The first step on the journey to a lifetime of ocular well-being and clear vision begins with a comprehensive eye exam. Take control of your eyes and book your children's, adults', or senior's eye exam today.
Your Guide To Clear Vision
With a focus on compassionate care and patient education, we promise to give every Bower Eye Care patient the time they need to understand their diagnosis, their treatment strategy, and their prescription for clear vision. Choose the best guide for your journey to optimal eye health with the team at Bower Eye Care.
Call us today at Calgary location: 1-403-719-9990 or Red Deer location: 1-403-309-2255
Reach out to us at our Calgary location by fax at 1-403-719-9992 or Red Deer location at 1-403-309-2241