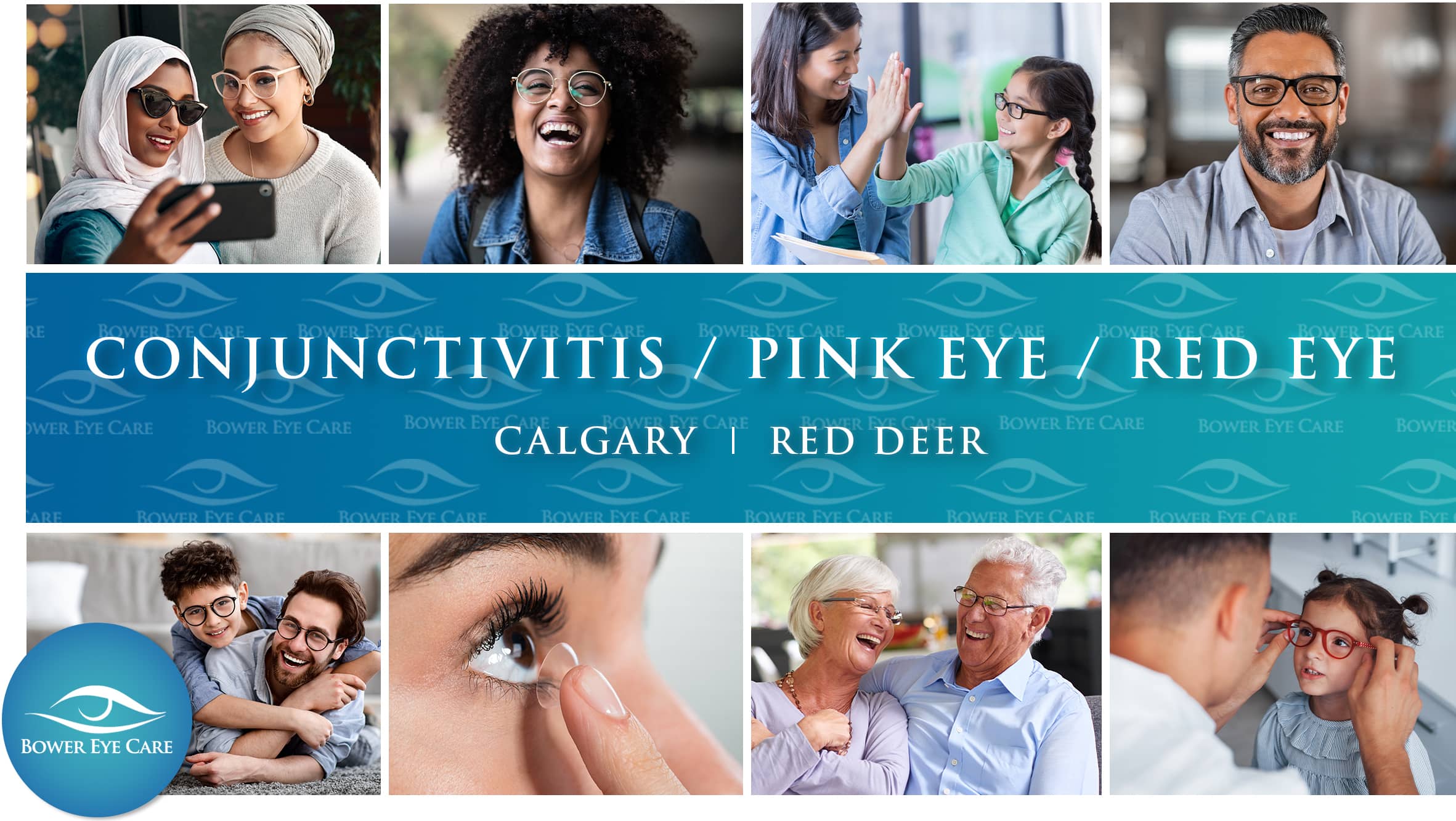 Conjunctivitis, commonly referred to as "pink eye" or "red eye", is caused by the inflammation of the conjunctiva. The conjunctiva is the thin and clear membrane that lies over the white part of the eye and the inner eyelid. As the common name implies, this inflammation leads to redness in these areas. Conjunctivitis is caused by the spread of certain types of bacteria and viruses, and can be contagious. It can also be caused by allergies. There are over-the-counter remedies to treat conjunctivitis, but for frequent or persistent (chronic) conjunctivitis, you should always consult with your Bower Eye Care optometrist.
Conjunctivitis can be acute (resolves reasonably easily within a few days) or chronic (prolonged and recurring). There are several types of conjunctivitis including:
Bacterial Conjunctivitis: This is caused by bacteria that infects the eye. Bacteria can be spread through contact with an infected individual or contaminated surfaces.
Viral Conjunctivitis: This type is highly contagious and this can be contracted from airborne viruses. Viral conjunctivitis is often accompanied by other viral infections such as the flu or common cold.
Allergic Conjunctivitis: This is commonly caused by eye allergies that are triggered by allergens such as pollen, dander, and dust mites.
Symptoms of Conjunctivitis
The most common symptoms of conjunctivitis are:
Redness of the whites of the eye or the inner eyelid
Watery, teary eyes
Thick yellow, green, or white discharge that crusts over the eyelashes during sleep
Itchy, burning eyes
Blurred vision
Sensitivity to light
Pain or a gritty sensation in the eye
Swollen eyelids
Treatment Options For Conjunctivitis
The type of conjunctivitis as well as the symptoms will inform the best course of treatment. Viral conjunctivitis usually just needs to run its course before clearing. Treatment is usually focused on symptom relief. Some treatment options are:
Antibiotic eye drops or ointments
Artificial tears
Cold or warm compresses
Avoiding triggers, antihistamines, or anti-inflammatory medications in the case of allergic conjunctivitis
Conjunctivitis diagnosis, treatment, and follow-up is considered emergency or urgent eye care and is covered by your Alberta Health Care Insurance Plan (AHCIP).
See Clearly in Calgary
Bower Eye Care provides an elevated level of eye health care to Calgarians with the most advanced diagnostic and treatment technologies.
We promise an elevated eye care experience for you and your family so that you can take control of your eye health ensure a lifetime of clear vision with the support of our optometrists and eye care professionals.
Call us at: 1-403-719-9990
Book Appointment
A Better Vision For Red Deer
Bower Eye Care has a clear vision of eye care for Red Deer.
Our expert team of optometrists and eye health professionals bring cutting edge diagnostics and treatment technologies to your city so you can see a future with optimal eye health and better vision for you and your family. Visit our Red Deer clinic and ensure healthy eyes for a lifetime.
Call us at: 1-403-309-2255
Book Appointment
Complete Eye Care For Your Family
From your child's first eye exam through to the treatment and management of age-related disease, Bower Eye Care is your family's ally in optimal eye health and clear vision for a lifetime. Our skilled and knowledgeable team offers complete eye care services with a patient-centered approach and a focus on education and empowerment.
Conjunctivitis diagnosis, treatment and follow-up is considered emergency or urgent eye care and is covered by your Alberta Health Care Insurance Plan (AHCIP).
We recommend that you come visit us as soon as you feel any irritation of your eye, it's always a better idea than trying home remedies or a self-prescribed treatment.
If you believe that you have conjunctivitis or for any other urgent eye health concerns, you can book a eye health exam to at Bower Eye Care by calling 1-403-719-9990 in Calgary, 1-403-309-2255 in Red Deer, or through our online form. We also accept walk-in visits.
Your Eye Health, Your Way

Bower Eye Care is committed to a patient-centred and collaborative approach to long-term eye health, diagnosis, treatment, disease management, and vision correction. The first step on the journey to a lifetime of ocular well-being and clear vision begins with a comprehensive eye exam. Take control of your eyes and book your children's, adults', or senior's eye exam today.
Your Guide To Clear Vision
With a focus on compassionate care and patient education, we promise to give every Bower Eye Care patient the time they need to understand their diagnosis, their treatment strategy, and their prescription for clear vision. Choose the best guide for your journey to optimal eye health with the team at Bower Eye Care.
Call us today at Calgary location: 1-403-719-9990 or Red Deer location: 1-403-309-2255
Reach out to us at our Calgary location by fax at 1-403-719-9992 or Red Deer location at 1-403-309-2241