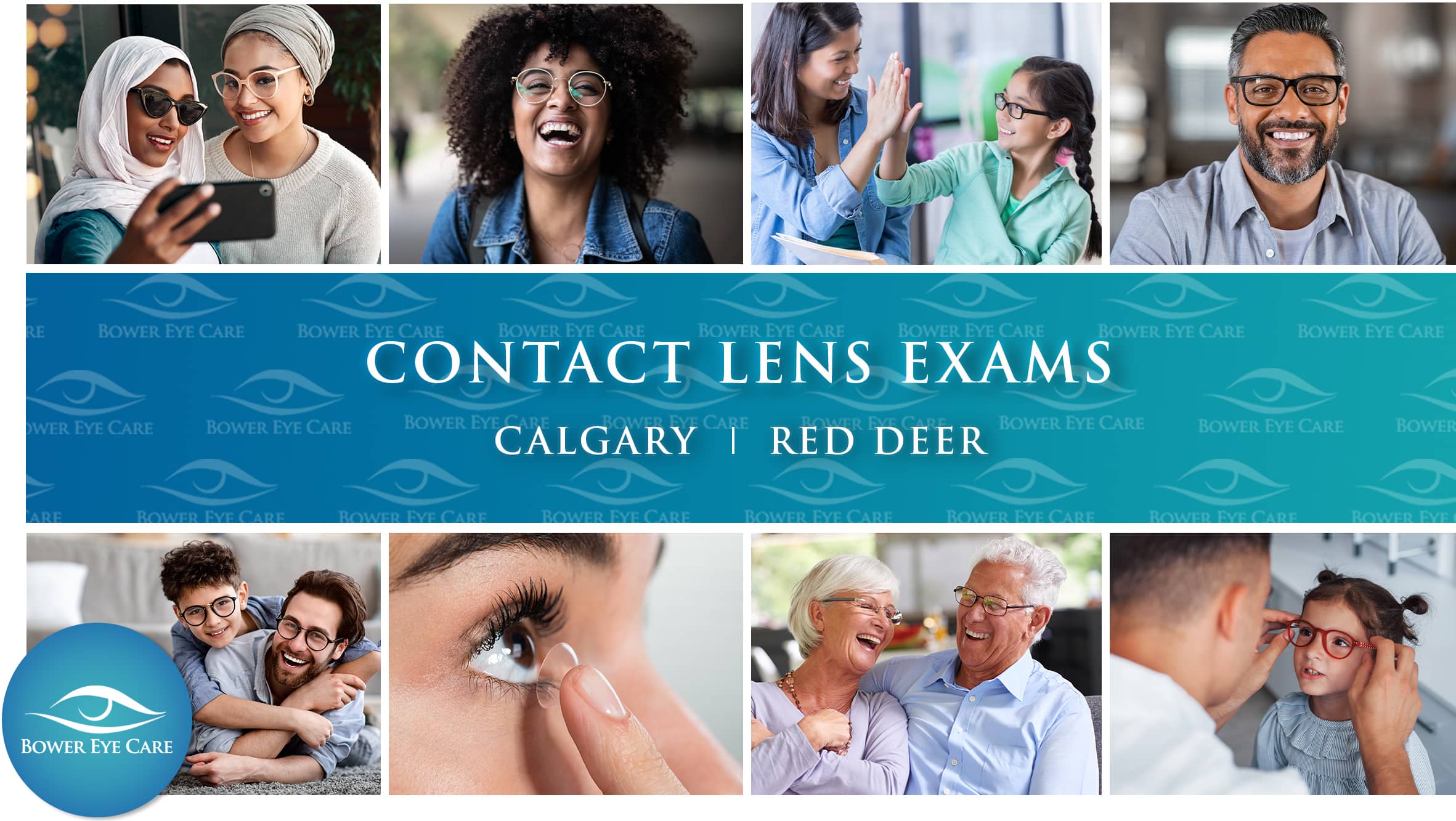 Whether you are new to corrective eyewear or a seasoned eyeglasses wearer, when you decide to explore your options for contact lenses, the first step is a contact lens exam. A contact lens exam will include a comprehensive eye exam to assess your general vision for prescription and your overall eye health. It will also include a contact lens consultation to measure your eyes, establish proper lens fit, and determine the best lenses for you. This decision is based on your vision needs, the shape and health of your eyes, and your lifestyle. A proper fit and the most suitable contact lenses will ensure optimal vision and a positive contact lens wearing experience.
Finding The Perfect Contact Lenses For You
The Benefits Of Contact Lenses
Besides the obvious benefit of looking like you are not wearing corrective eyewear, there are many other advantages to opting for contact lenses including:
No Glare: Contact lenses do not create any glare or reflections of sunlight.
Full Field Of Vision: Unlike eyeglasses that only correct your vision forward through the limited lenses, contact lenses can correct your peripheral vision too.
Easy To Wear: Once you are used to them, you can place your contacts in and remove them very easily and quickly. Eyeglasses are easy to put on too, but they can cause discomfort on your nose or ears and often need to be pushed up and adjusted throughout the day.
No Weather Limitations: Contacts do not get soaked with rain or fog up when going indoors from the cold or breathing with a mask on.
UV Protection: Certain contact lenses can offer daily, year-round UV protection.
Reduced Distortion And Obstructions: Because contact lenses sit directly on your eye, you are less likely to experience distortions and obstructions as those caused by the frames and lenses of regular eyeglasses.
The Benefits Of A Bower Contact Lens Exam
The team at Bower Eye care brings the most advanced technologies in contact lens design to our patients. We have a number of trusted partnerships with manufacturers and suppliers of high-quality contact lenses and can offer you the opportunity to try on different lenses at your contact lens exam appointment. In most cases we can even send you home with a few samples to try out before you make your final decision. We have options for standard lenses, multifocal lenses, lenses for astigmatism, and a range of specialty lenses for hard-to-fit-patients. We specialize in contact lens fitting and use the latest tools and technologies to ensure that your contact lenses fit well and function properly for you. Bower Eye Care contact lens exams are streamlined to help you see clearly – quickly and efficiently.
See Clearly in Calgary
Bower Eye Care provides an elevated level of eye health care to Calgarians with the most advanced diagnostic and treatment technologies.
We promise an elevated eye care experience for you and your family so that you can take control of your eye health ensure a lifetime of clear vision with the support of our optometrists and eye care professionals.
Call us at: 1-403-719-9990
Book Appointment
A Better Vision For Red Deer
Bower Eye Care has a clear vision of eye care for Red Deer.
Our expert team of optometrists and eye health professionals bring cutting edge diagnostics and treatment technologies to your city so you can see a future with optimal eye health and better vision for you and your family. Visit our Red Deer clinic and ensure healthy eyes for a lifetime.
Call us at: 1-403-309-2255
Book Appointment
Complete Eye Care For Your Family
From your child's first eye exam through to the treatment and management of age-related disease, Bower Eye Care is your family's ally in optimal eye health and clear vision for a lifetime. Our skilled and knowledgeable team offers complete eye care services with a patient-centered approach and a focus on education and empowerment.
Contact lenses reduce the amount of oxygen that enters your eye because there is a physical layer that separates your eye from the air. If contact lenses are worn too long or improperly, the lack of adequate oxygen can cause damaging changes to the eyes. It is essential to detect the changes at an early stage to ensure that appropriate measures can be taken to treat them or prevent them from worsening. Yearly eye exams and contact lens fittings ensure that no such changes are occurring in your eyes.
Your consultation will include:
Measurements of the curvature of the cornea, pupil and iris size to determine the appropriate contact lenses for your eyes.
Hands-on training from one of our knowledgeable staff members about the correct way to insert, handle, remove and take care of your lenses.
A pair of trial lenses for you to wear home.
Follow-up exam(s), usually within a few days, to ensure the contact lens fit and vision is right for you.
Optometrist-determined contact lens prescription.
We do provide direct billing to most insurance companies including:
Blue Cross
Medavie
Telus Health Portal
Provider Connect
Sun Life
NIHB (Indigenous Services)
Alberta Works/ Aish *Excluding Contact Lenses
Our team is happy to answer any insurance/ coverage questions you have at the time of booking.
Your Eye Health, Your Way

Bower Eye Care is committed to a patient-centred and collaborative approach to long-term eye health, diagnosis, treatment, disease management, and vision correction. The first step on the journey to a lifetime of ocular well-being and clear vision begins with a comprehensive eye exam. Take control of your eyes and book your children's, adults', or senior's eye exam today.
Two Eye Clinic Locations Serving Calgary and Red Deer, Alberta
Your Guide To Clear Vision
With a focus on compassionate care and patient education, we promise to give every Bower Eye Care patient the time they need to understand their diagnosis, their treatment strategy, and their prescription for clear vision. Choose the best guide for your journey to optimal eye health with the team at Bower Eye Care.
Call us today at Calgary location: 1-403-719-9990 or Red Deer location: 1-403-309-2255
Reach out to us at our Calgary location by fax at 1-403-719-9992 or Red Deer location at 1-403-309-2241