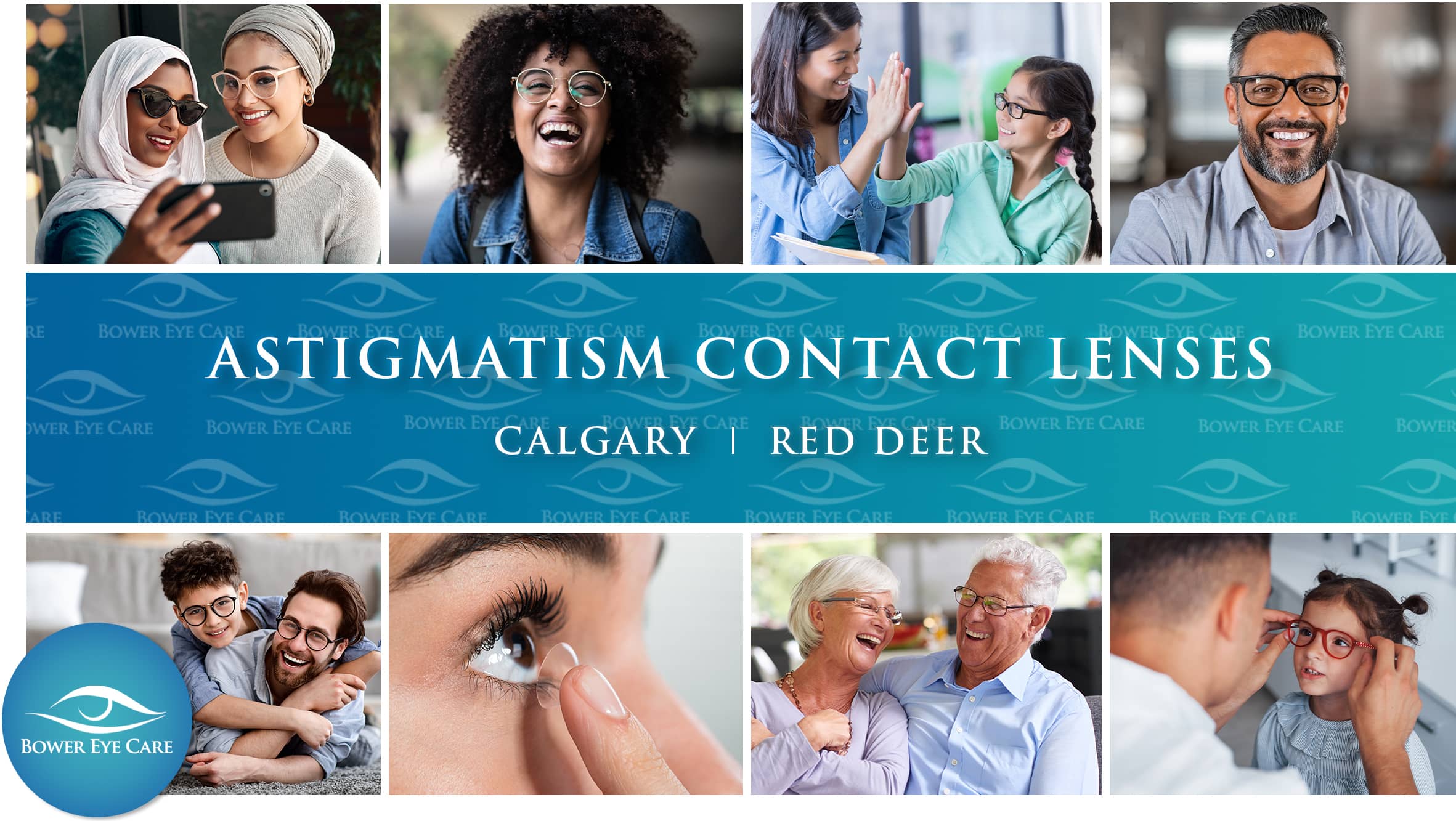 Astigmatism is an imperfection in the curvature of the eye that causes blurred distant and near vision. It occurs when the front surface of the eye, known as the cornea, or the lens inside the eye has mismatched curves. Astigmatism is fairly common and is usually easily treated, but it can present a challenge to those who want to wear contact lenses to correct vision.
At Bower Eye Care, we make it a priority to offer our hard-to-fit patients a variety of options that leverage the latest contact lens technologies. Our optometrists use advanced equipment to precisely measure your cornea to achieve the best contact lens fit possible. Our clinic has priority status with most contact lens companies. That enables us to carry and order a variety of lenses suitable for patients diagnosed with astigmatism.
Toric contact lenses might be the best choice for you if you are diagnosed with astigmatism. Toric lenses are not spherical like regular contact lenses, but instead are shaped like a slice cut from the side of a three-dimensional ring. This shape creates a different focusing power most suitable for the atypical curvature associated with astigmatism. Other contact lens options for patients with astigmatism include Rigid Gas Permeable lenses (RGP) and hybrid contact lenses with an added comfort component.
Why Contact Lenses?
Contact lenses may be preferable over eyeglasses for people with astigmatism because they provide a wider field of corrected vision. To explore your option for vision correction and the varied contact lenses choices for astigmatism, book an astigmatism consult and fitting session with the team at Bower Eye Care.
See Clearly in Calgary
Bower Eye Care provides an elevated level of eye health care to Calgarians with the most advanced diagnostic and treatment technologies.
We promise an elevated eye care experience for you and your family so that you can take control of your eye health ensure a lifetime of clear vision with the support of our optometrists and eye care professionals.
Call us at: 1-403-719-9990
Book Appointment
A Better Vision For Red Deer
Bower Eye Care has a clear vision of eye care for Red Deer.
Our expert team of optometrists and eye health professionals bring cutting edge diagnostics and treatment technologies to your city so you can see a future with optimal eye health and better vision for you and your family. Visit our Red Deer clinic and ensure healthy eyes for a lifetime.
Call us at: 1-403-309-2255
Book Appointment
Complete Eye Care For Your Family
From your child's first eye exam through to the treatment and management of age-related disease, Bower Eye Care is your family's ally in optimal eye health and clear vision for a lifetime. Our skilled and knowledgeable team offers complete eye care services with a patient-centered approach and a focus on education and empowerment.
Astigmatism Contact Lenses FAQs
Astigmatism affects your ability to focus correctly and causes your retina to receive two different images resulting in blurry vision. This can impact your near and distant sight.
You can book a comprehensive eye exam to assess for astigmatism at Bower Eye Care by calling 1-403-719-9990 in Calgary, 1-403-309-2255 in Red Deer, or through our online form. If you choose contact lenses for vision correction, we will also schedule a fitting and a teaching session for you.
Your Eye Health, Your Way

Bower Eye Care is committed to a patient-centred and collaborative approach to long-term eye health, diagnosis, treatment, disease management, and vision correction. The first step on the journey to a lifetime of ocular well-being and clear vision begins with a comprehensive eye exam. Take control of your eyes and book your children's, adults', or senior's eye exam today.
Your Guide To Clear Vision
With a focus on compassionate care and patient education, we promise to give every Bower Eye Care patient the time they need to understand their diagnosis, their treatment strategy, and their prescription for clear vision. Choose the best guide for your journey to optimal eye health with the team at Bower Eye Care.
Call us today at Calgary location: 1-403-719-9990 or Red Deer location: 1-403-309-2255
Reach out to us at our Calgary location by fax at 1-403-719-9992 or Red Deer location at 1-403-309-2241