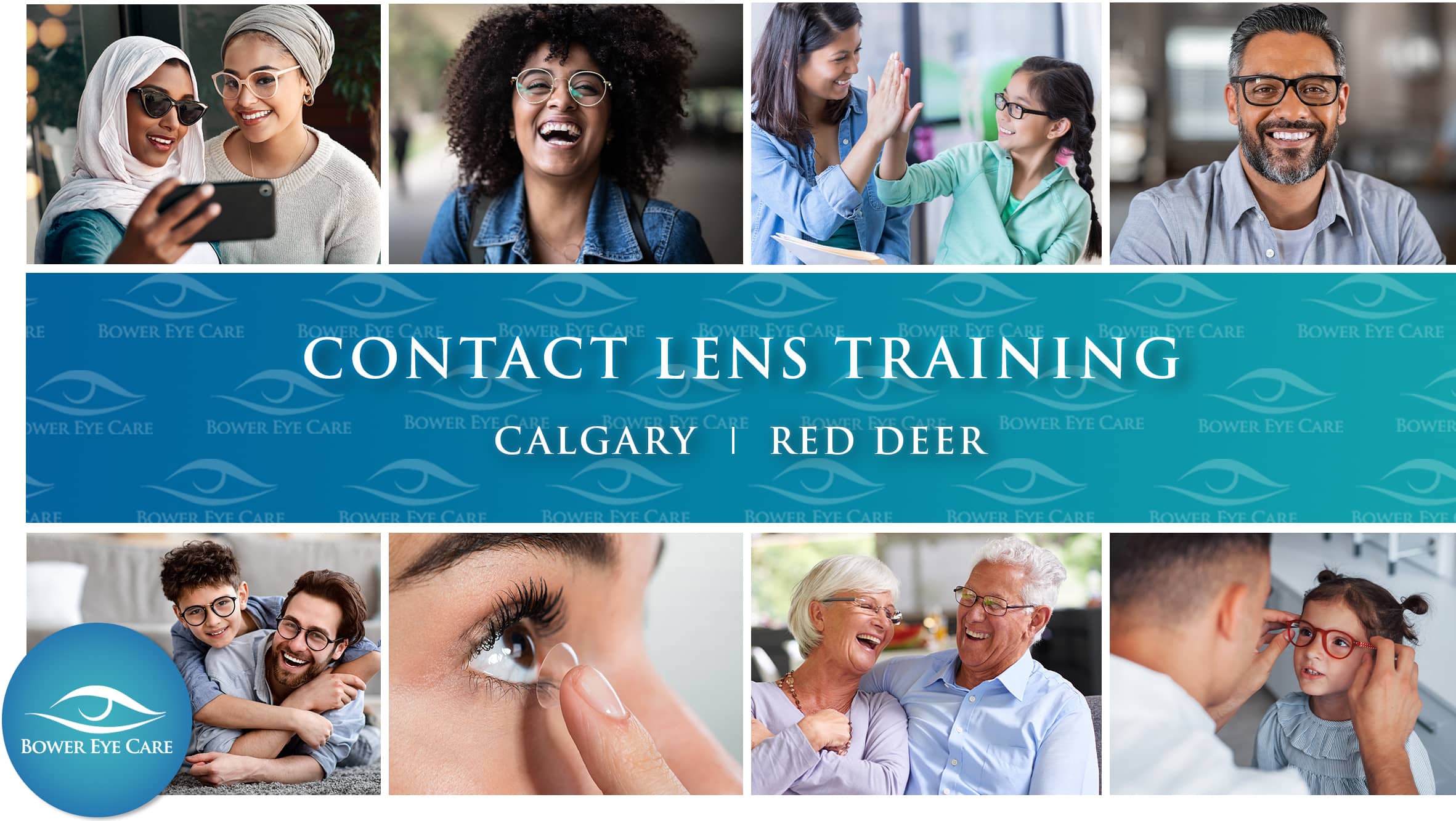 If you are a new contact lens wearer you will be required to book a mandatory one-on-one Contact Lens Training session. Our team is committed to providing an elevated contact lens wearing experience with education, fit assessment, and the most advanced technologies in contact lenses available. We strive to empower our contact lens patients to take control of their own eye health, their vision correction strategy, and to see clearly for a lifetime.
Finding The Perfect Contact Lenses For You
What Is A Contact Lens Training Session?
After you meet with your Bower Eye Care optometrist for a comprehensive eye exam and a contact lens consultation, you will be fitted with the proper contact lenses and encouraged to book a contact lens training session. During this one-hour, one-on-one teaching session you will:
Learn how to properly insert and safely remove your new contact lenses
Be trained in how to clean and care for your contact lenses
Receive coaching on the dos and don'ts of healthy contact lens habits
Understand the schedule for wearing and replacing your contact lenses
During this session, you will have the opportunity to practice inserting and removing your lenses and be able to ask any questions you may have. If you do not feel comfortable and confident after your one-hour session, speak with your optometrist and book another complimentary appointment with the Bower Eye Care team.
The Benefits Of Bower
Our team is committed to ensuring a positive outcome for every patient seeking clear vision and healthy eyes with the support of contact lenses. Our team strives for patient and empathetic care as you gain the skills and the confidence to improve your eyesight safely with contact lenses. We have priority status with the industry's top providers of contact lens technologies so that we can offer our patients advanced vision solutions including multifocal and multifocal toric lenses, toric lenses for astigmatism, myopic control lenses, and even coloured contact lenses at competitive prices. Bower Eye Care prioritizes your agency, your comfort, and your eyesight for long-term eye health and clear vision.

See Clearly in Calgary
Bower Eye Care provides an elevated level of eye health care to Calgarians with the most advanced diagnostic and treatment technologies.
We promise an elevated eye care experience for you and your family so that you can take control of your eye health ensure a lifetime of clear vision with the support of our optometrists and eye care professionals.
Call us at: 1-403-719-9990
Book Appointment
A Better Vision For Red Deer
Bower Eye Care has a clear vision of eye care for Red Deer.
Our expert team of optometrists and eye health professionals bring cutting edge diagnostics and treatment technologies to your city so you can see a future with optimal eye health and better vision for you and your family. Visit our Red Deer clinic and ensure healthy eyes for a lifetime.
Call us at: 1-403-309-2255
Book Appointment
Complete Eye Care For Your Family
From your child's first eye exam through to the treatment and management of age-related disease, Bower Eye Care is your family's ally in optimal eye health and clear vision for a lifetime. Our skilled and knowledgeable team offers complete eye care services with a patient-centered approach and a focus on education and empowerment.
Contact Lens Training FAQs
Contact lenses that do not fit properly could cause discomfort, blurry vision or even damage the eye. It is important to know how to insert and remove a contact lens safely to avoid any infections, scratches, or injury to your eye.
No, the contact lens training is typically a one-time appointment. After that, you only need to come in for your routine annual comprehensive eye exam and contact lens consultation.
If you are having difficulty safely inserting or removing your contact lenses or you do not feel confident after your one-hour session, we encourage patients to come back for another session. This is included with the initial cost of the training.
Your Eye Health, Your Way

Bower Eye Care is committed to a patient-centred and collaborative approach to long-term eye health, diagnosis, treatment, disease management, and vision correction. The first step on the journey to a lifetime of ocular well-being and clear vision begins with a comprehensive eye exam. Take control of your eyes and book your children's, adults', or senior's eye exam today.
Two Eye Clinic Locations Serving Calgary and Red Deer, Alberta
Your Guide To Clear Vision
With a focus on compassionate care and patient education, we promise to give every Bower Eye Care patient the time they need to understand their diagnosis, their treatment strategy, and their prescription for clear vision. Choose the best guide for your journey to optimal eye health with the team at Bower Eye Care.
Call us today at Calgary location: 1-403-719-9990 or Red Deer location: 1-403-309-2255
Reach out to us at our Calgary location by fax at 1-403-719-9992 or Red Deer location at 1-403-309-2241