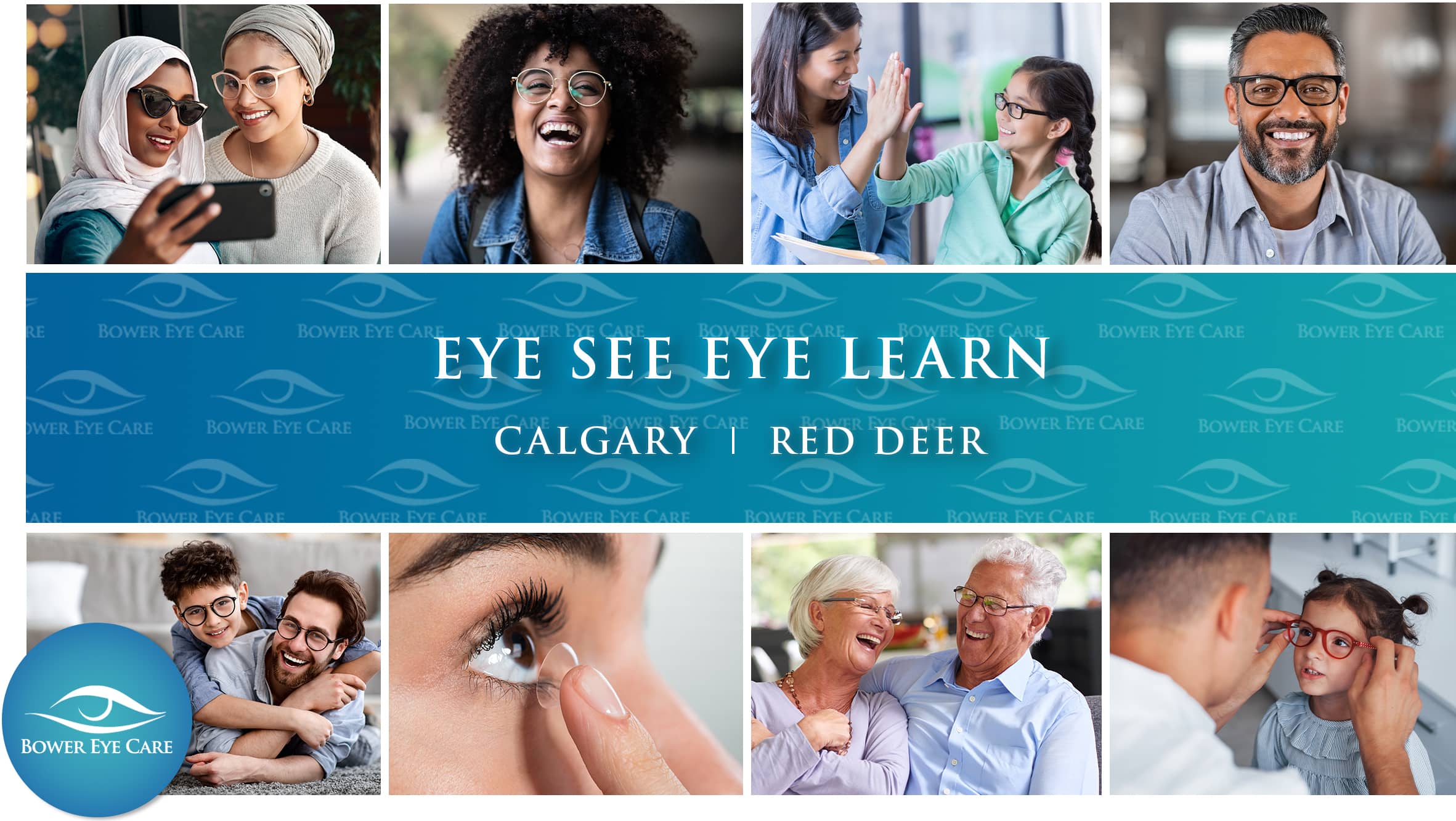 Clear vision allows children to understand the world around them. Vision is a major part of how children learn and how they participate in a classroom environment. In fact, up to 80% of learning is visual and impaired vision can interfere with a child's ability to thrive in school. According to the Alberta Association of Optometrists (AAO), 25% of children in Alberta start grade one with an undiagnosed vision or eye health condition. The Eye See… Eye Learn™ program focuses on ensuring every child in Alberta has the opportunity to see clearly and learn with unbridled vision. Bower Eye Care proudly participates in the effort to provide free eyeglasses for every eligible kindergarten student in the province.
Bower Eye Care Is Helping Every Child Reach Their Full Potential
We are proud partners in the AAO Eye See… Eye Learn™ initiative. When you call to book your child's eye exam, simply explain that you want to participate in the Eye See… Eye Learn™ program and we will take care of the rest. Here is what you and your child can expect on your journey to clear and healthy vision:
Book Your Exam: Visit our locations in Red Deer or Calgary for your Children's Eye Exam. Every aspect of your child's eye health including eye coordination, depth perception, and colour vision will be assessed. Our optometrists will then evaluate your child's vision to determine impairment and the proper prescription. This eye exam and every exam until age 18 is covered by your Alberta Health Care Insurance Plan (AHCIP).
Select An Available Frame: With our professional guidance, you and your child can browse through available options for frames that fit well and highlight your child's unique and personal style.
Pick Up And Follow Up: When your child's eyeglasses are ready we will ensure the prescription is correct and that your child's eyeglasses fit properly. We encourage you to book a follow-up appointment after one month so that our team can ensure your child is adapting to life with eyeglasses and to make any adjustments to fit or prescription if needed.
And that's it. It is really very simple to give your child the gift of foundational eye health and the gift of clear vision today and for a lifetime.
See Clearly in Calgary
Bower Eye Care provides an elevated level of eye health care to Calgarians with the most advanced diagnostic and treatment technologies.
We promise an elevated eye care experience for you and your family so that you can take control of your eye health ensure a lifetime of clear vision with the support of our optometrists and eye care professionals.
Call us at: 1-403-719-9990
Book Appointment
A Better Vision For Red Deer
Bower Eye Care has a clear vision of eye care for Red Deer.
Our expert team of optometrists and eye health professionals bring cutting edge diagnostics and treatment technologies to your city so you can see a future with optimal eye health and better vision for you and your family. Visit our Red Deer clinic and ensure healthy eyes for a lifetime.
Call us at: 1-403-309-2255
Book Appointment
Complete Eye Care For Your Family
From your child's first eye exam through to the treatment and management of age-related disease, Bower Eye Care is your family's ally in optimal eye health and clear vision for a lifetime. Our skilled and knowledgeable team offers complete eye care services with a patient-centered approach and a focus on education and empowerment.
After your child's eye exam, we will submit the order to the lab for manufacturing. It typically takes up to 3 weeks for the lab to send your child's eyeglasses to Bower Eye Care clinics for pick up.
You can book an Eye See… Eye Learn™ appointment at Bower Eye Care by calling 1-403-719-9990 in Calgary, 1-403-309-2255 in Red Deer, or through our online form. We also accept walk-in visits. Let our team know that you want to take advantage of the Eye See… Eye Learn™ initiative at the time of booking.
Your Eye Health, Your Way

Bower Eye Care is committed to a patient-centred and collaborative approach to long-term eye health, diagnosis, treatment, disease management, and vision correction. The first step on the journey to a lifetime of ocular well-being and clear vision begins with a comprehensive eye exam. Take control of your eyes and book your children's, adults', or senior's eye exam today.
Your Guide To Clear Vision
With a focus on compassionate care and patient education, we promise to give every Bower Eye Care patient the time they need to understand their diagnosis, their treatment strategy, and their prescription for clear vision. Choose the best guide for your journey to optimal eye health with the team at Bower Eye Care.
Call us today at Calgary location: 1-403-719-9990 or Red Deer location: 1-403-309-2255
Reach out to us at our Calgary location by fax at 1-403-719-9992 or Red Deer location at 1-403-309-2241