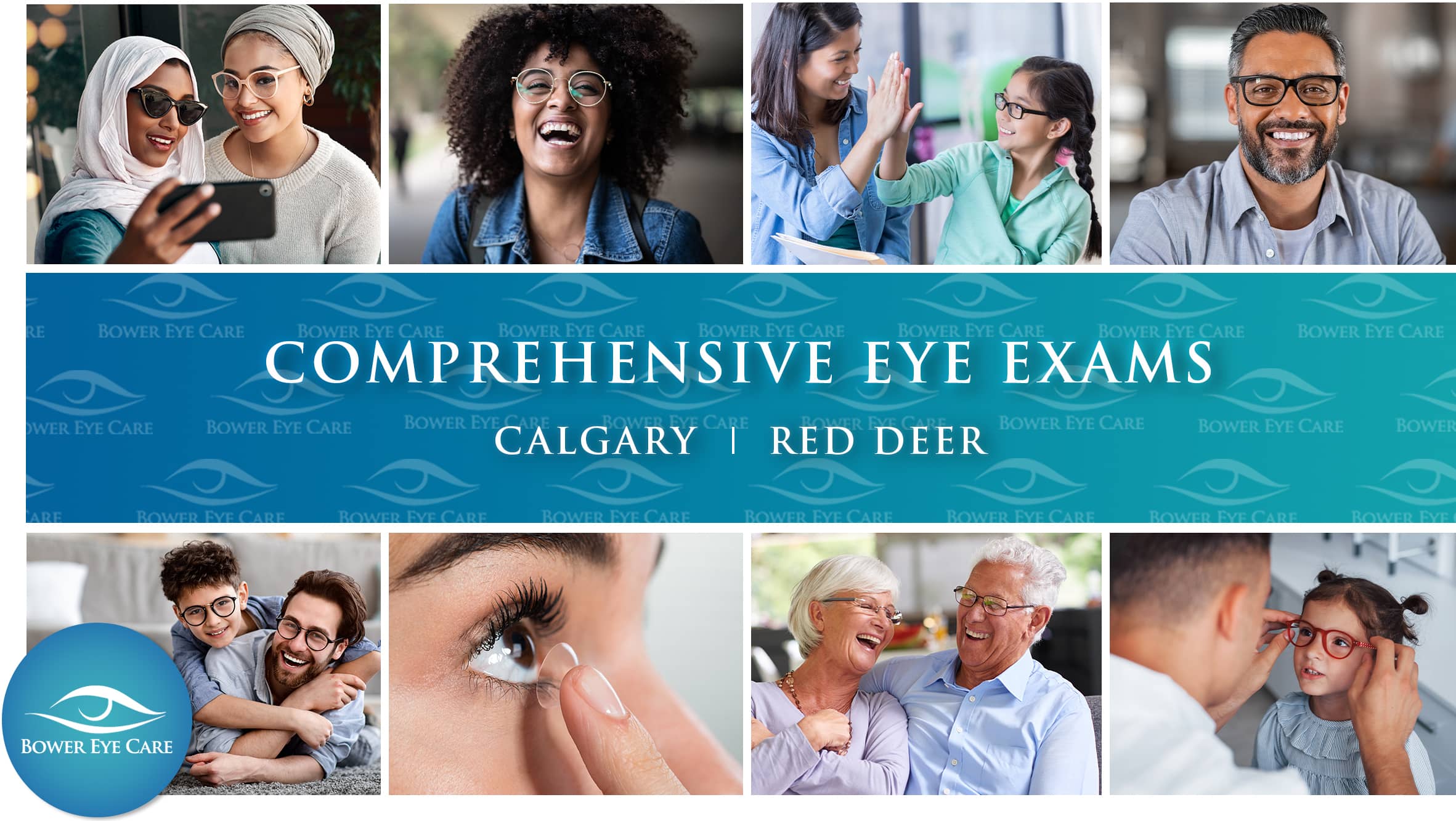 Eye health is about more than just your vision. Eye health is deeply interconnected with your overall health and well-being. During a comprehensive eye exam at Bower Eye Care your optometrist will screen for common eye health concerns such as eye strain, dry eyes, corneal disease, cataracts, and retinal health, but also monitor for the presence or future risk of diabetes, high blood pressure, and cancer. The vision component of your comprehensive eye exam will evaluate eye coordination and alignment, depth perception and colour vision, and eye pressure.
A comprehensive eye exam gives your optometrist extensive insight into any vision challenges, but also your eye health and overall health so that an effective treatment plan can be actioned.
Comprehensive Health Insight
Did you know that The Canadian Association of Optometrists recommends that adults aged 19-64 have regular comprehensive eye exams every two years? It is also recommended that seniors aged 65+ have annual exams. If you are diagnosed with vision loss requiring a prescription, certain eye conditions, or if you have other health concerns such as diabetes, your optometrist may recommend more frequent comprehensive eye exams.
Children should have their first comprehensive eye exam between 6-9 months of age. Learn more about Children's Eye Exams and the Eye See… I Learn™ program for kindergarten students. (link to Children's Eye Exams page)
What To Expect During A Comprehensive Eye Exam
Personal health history including eye health and general health as well as family history.
Questions about your current prescription if relevant, and your visual needs at home, school, work, and leisure.
An in-depth eye exam including a variety of tests to evaluate your eye health and detect any abnormalities or disease. This may include imaging technologies such as Optomap digital imaging. (link to optomap)
A vision test to assess eye strength, visual acuity, eye coordination, peripheral vision, depth perception, colour perception, and focus.
A careful and thorough review of your screening results, education and recommendations for relief of symptoms, an effective treatment plan if needed, referrals to top ophthalmologists for further assessment or treatment if required, and a prescription to address any vision loss.
See Clearly in Calgary
Bower Eye Care provides an elevated level of eye health care to Calgarians with the most advanced diagnostic and treatment technologies.
We promise an elevated eye care experience for you and your family so that you can take control of your eye health ensure a lifetime of clear vision with the support of our optometrists and eye care professionals.
Call us at: 1-403-719-9990
Book Appointment
A Better Vision For Red Deer
Bower Eye Care has a clear vision of eye care for Red Deer.
Our expert team of optometrists and eye health professionals bring cutting edge diagnostics and treatment technologies to your city so you can see a future with optimal eye health and better vision for you and your family. Visit our Red Deer clinic and ensure healthy eyes for a lifetime.
Call us at: 1-403-309-2255
Book Appointment
Complete Eye Care For Your Family
From your child's first eye exam through to the treatment and management of age-related disease, Bower Eye Care is your family's ally in optimal eye health and clear vision for a lifetime. Our skilled and knowledgeable team offers complete eye care services with a patient-centered approach and a focus on education and empowerment.
Comprehensive Eye Exams FAQs
A comprehensive eye exam typically takes 20 minutes, but could take a little longer if you have specific questions or concerns to discuss with the optometrist or if more in-depth testing is required.
We do provide direct billing to most insurance companies including:
Blue Cross
Medavie
Telus Health Portal
Provider Connect
Sun Life
NIHB (Indigenous Services)
Alberta Works/ Aish *Excluding Contact Lenses
Our team is happy to answer any insurance/ coverage questions you have at the time of booking.
Your Eye Health, Your Way

Bower Eye Care is committed to a patient-centred and collaborative approach to long-term eye health, diagnosis, treatment, disease management, and vision correction. The first step on the journey to a lifetime of ocular well-being and clear vision begins with a comprehensive eye exam. Take control of your eyes and book your children's, adults', or senior's eye exam today.
Your Guide To Clear Vision
With a focus on compassionate care and patient education, we promise to give every Bower Eye Care patient the time they need to understand their diagnosis, their treatment strategy, and their prescription for clear vision. Choose the best guide for your journey to optimal eye health with the team at Bower Eye Care.
Call us today at Calgary location: 1-403-719-9990 or Red Deer location: 1-403-309-2255
Reach out to us at our Calgary location by fax at 1-403-719-9992 or Red Deer location at 1-403-309-2241