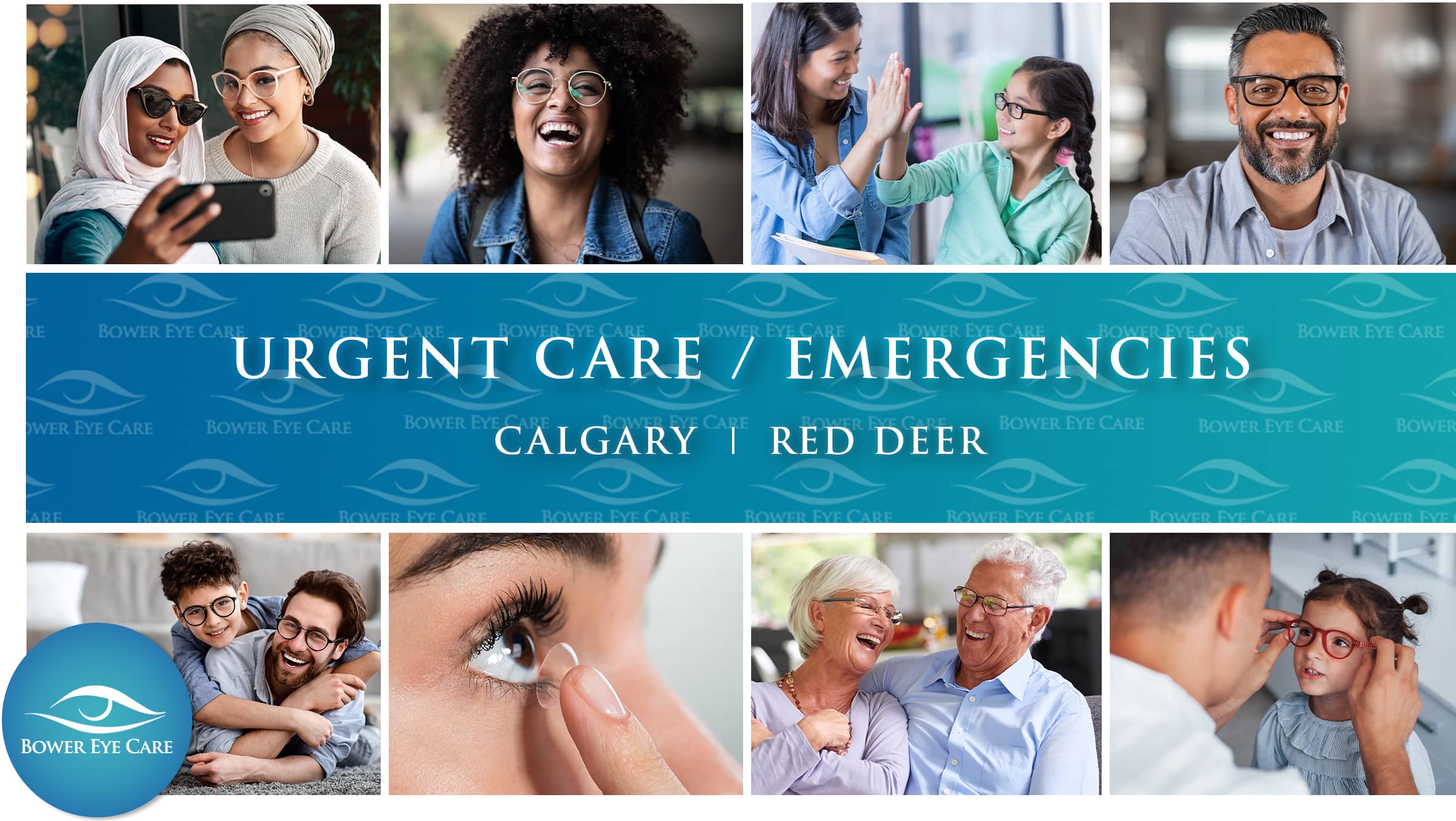 If you are experiencing an eye emergency, immediate attention is critical. Long wait times at hospitals and walk-in clinics could put your vision and eye health at risk. Don't delay in seeking treatment. Your eye emergency care is covered under the Alberta Health Care Insurance Plan (AHCIP). The most effective strategy for dealing with an eye emergency is to pursue immediate treatment from your optometrist. Bower Eye Care provides responsive and attentive care for every patient with urgent and immediate ocular health concerns. If you are uncertain if your injury or condition requires immediate care, call us at 1-403-719-9990 in Calgary, or 1-403-309-2255 in Red Deer for advice and recommendations. If you prefer, walk-in care is available.
It can be difficult to determine if your condition requires immediate treatment. You should seek emergency or urgent care when any of the following symptoms are present:
Suspected retinal detachment
Persistent eye infection
Injury to the eye or surrounding area has occurred
Inflammation of the eyelid
Foreign objects in your eye
Sudden changes in vision
Sudden or recurring eye irritation
Double vision
Burning or stinging
Pupils that are different sizes
Eye pain
Discharge from the eye
Bleeding from the eye or blood in the white of the eye
Swelling
Bower Eye Care supports your eye health and vision with an exceptional emergency and urgent eye care protocol. We offer same day and walk in appointments and our optometrists have immediate access to the most advanced tools and technologies to assess, diagnose, and treat many eye emergencies. We can leverage field vision machines, 3D Ocular Coherence Tomography (OCT) machines and Optomap digital retinal imaging right in our clinic. We are committed to providing the highest standard of care for our patients when emergencies happen.
See Clearly in Calgary
Bower Eye Care provides an elevated level of eye health care to Calgarians with the most advanced diagnostic and treatment technologies.
We promise an elevated eye care experience for you and your family so that you can take control of your eye health ensure a lifetime of clear vision with the support of our optometrists and eye care professionals.
Call us at: 1-403-719-9990
Book Appointment
A Better Vision For Red Deer
Bower Eye Care has a clear vision of eye care for Red Deer.
Our expert team of optometrists and eye health professionals bring cutting edge diagnostics and treatment technologies to your city so you can see a future with optimal eye health and better vision for you and your family. Visit our Red Deer clinic and ensure healthy eyes for a lifetime.
Call us at: 1-403-309-2255
Book Appointment
Complete Eye Care For Your Family
From your child's first eye exam through to the treatment and management of age-related disease, Bower Eye Care is your family's ally in optimal eye health and clear vision for a lifetime. Our skilled and knowledgeable team offers complete eye care services with a patient-centered approach and a focus on education and empowerment.
Urgent Care And Eye Emergency FAQs
All eye emergencies for Alberta residents are covered under the Alberta Health Care Insurance Program.
We triage and prioritize urgent eye emergencies and will ensure that you are seen quickly. The length of your treatment is dependent on the nature of your emergency. Some minor injuries and conditions can be treated in 20 minutes or less, but for more complex eye health concerns, supplemental testing, diagnostics, and treatment may be required.
Your Eye Health, Your Way

Bower Eye Care is committed to a patient-centred and collaborative approach to long-term eye health, diagnosis, treatment, disease management, and vision correction. The first step on the journey to a lifetime of ocular well-being and clear vision begins with a comprehensive eye exam. Take control of your eyes and book your children's, adults', or senior's eye exam today.
Your Guide To Clear Vision
With a focus on compassionate care and patient education, we promise to give every Bower Eye Care patient the time they need to understand their diagnosis, their treatment strategy, and their prescription for clear vision. Choose the best guide for your journey to optimal eye health with the team at Bower Eye Care.
Call us today at Calgary location: 1-403-719-9990 or Red Deer location: 1-403-309-2255
Reach out to us at our Calgary location by fax at 1-403-719-9992 or Red Deer location at 1-403-309-2241